Claim your FOLO between now till 1 December 2022
Hey Alphas,
Previously, we announced a token migration from IMPACT to FOLO to implement better features for our users. Many users were still in staking pools and did not want to remove their tokens and lose rewards, we hear you!
We have published the FOLO claim form for IMPACT token holders locked in staking contracts. This article will dive into guides and resources to help you claim your FOLO token!
FAQ
Where is the claim form?
Go to our website, alphaimpact.fi and scroll to the bottom of the page to find the FOLO Claim Form (see image below).

This is the web version. The mobile version will differ slightly.
I am in multiple staking pools. How do I claim for all the pools?
Each staking contract requires you to fill out a new claim form. Each staking pools count as 1 staking contract and would require 1 claim form, therefore if you had staked in all the pools listed below, you would need to submit 8 claim forms.
Please withdraw your tokens before applying for a claim.
Alpha Impact's Staking Pools:
Alpha Lobster
Alpha Whale
Alpha Wolf
Alpha Games 2
Alpha Games 3 (IMPACT/single asset)
Alpha Games 3 (UNI-V2/liquidity provider)
MantraDao staking (IMPACT/single asset)
MantraDao staking UNI-V2/liquidity provider)
I put IMPACT in another token contract/external wallet not by Alpha Impact. How do I claim FOLO?
You must withdraw your token from the contract/external wallet and fill out the claim form before next year, 1 December 2022.
I held IMPACT/ UNI-V2 in my wallet before the airdrop, but I don't see FOLO/ new UNI-V2 tokens.
If you are looking for your FOLO token, scroll to the bottom of your MetaMask wallet and click on 'Import tokens'.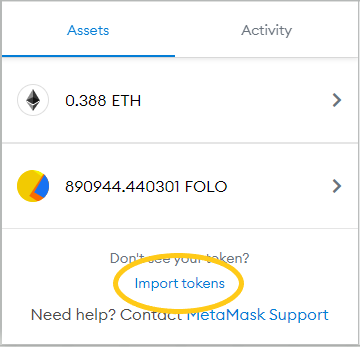 Enter our Etherscan address into the Token Contract Address field.
You can copy-paste these address below:
FOLO Token Address: 0xb2a63a5dd36c91ec2da59b188ff047f66fac122a
New UNI-V2 Token Address: FOLO: 0xd7160fe02d3b250ccd8067c0a52dffa52e8dfd77
Tips
Please withdraw your tokens before applying for a claim. To reduce the possibility of a delay during your claim process, fill out the form thoroughly and accurately. Have screenshots of your crypto wallet (showing both your wallet address and the amount of IMPACT/UNI-V2 inside) ready.
About Alpha Impact
Crypto Made Easy.
Alpha Impact is a social trading platform designed to bring trust to crypto trading. Whether you want to copy an expert trader automatically or you're already a crypto trader and want to build and monetize your following, we're building the infrastructure to take the guesswork out of crypto trading.
Traders on the Alpha Impact platform are some top-performing crypto traders. In good markets or bad, our traders are incentivized to share their trades and trading strategies through the Alpha Impact platform. Finally, a place where users can filter through the noise and learn about crypto trading from experts with a visible track record. Even better, traders have an incentive to share their investment thesis, analysis of the market, and the reasons behind their trades.
We share our fees with traders, meaning that there is finally an incentive for expert traders to share their activity and views with crypto enthusiasts and beginners.
Built by experts from the traditional finance space, our philosophy is to empower everyone to become a crypto trader. Whether you're a beginner wanting to learn from an expert, or an expert wanting to get paid, we're here to democratize access to this industry, one trade at a time. 
App | Whitepaper | Telegram | Telegram ANN | Medium | Twitter | Facebook | LinkedIn | Github | Instagram | Youtube | Tiktok