Alpha Impact launches referral program with $10,000 in rewards
SINGAPORE, March 3, 2022 – To celebrate the launch of their BitGo wallet integration and ability to deposit FOLO in-app, Alpha Impact has created a referral program that rewards both users and their friends up to $10,000 per year. Getting somebody to sign up and make a trade on Alpha Impact will net you $50 of FOLO credits while giving your referred friend $50 to make free copy trades. For example,  if you shared your referral link to a forum or subreddit, and  200 users used your referral link to get a $50 registration bonus, you will receive $10,000 in rewards. The referral code is available for existing users on the Reward tab. It can be accessed by tapping 'Rewards' with the medal icon in the app > 'Invite'. Sign up and start earning now!
How to start referring to others?
1. Sign in to app.alphaimpact.fi
2. Tap on 'Rewards' with the medal icon in the sidebar> "Invite"
From the Invite popup, you can copy and share your referral link (see the image below).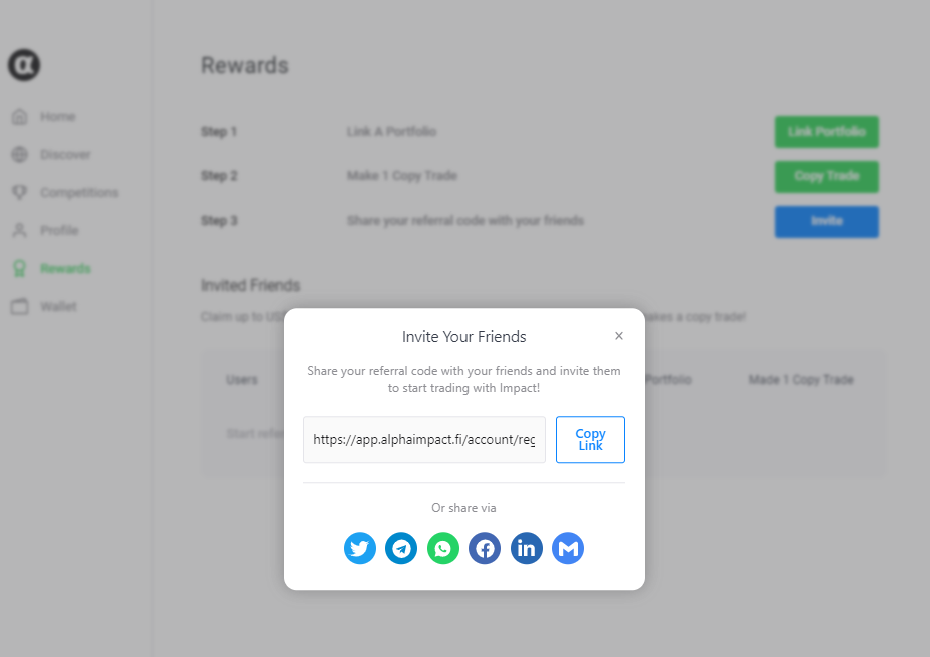 3. Check the sign-up status from the 'Rewards' tab
After sending your referral link, you can check the sign-up status from the 'Rewards' tab (see the image below).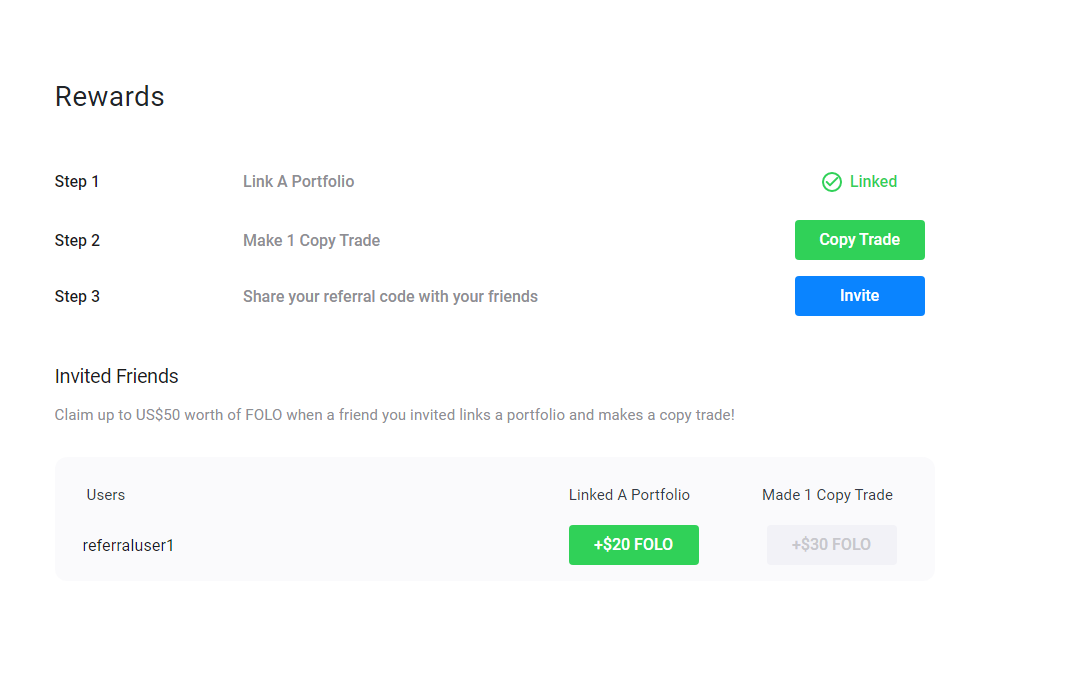 Ensure your account has completed Steps 1 and 2 as well in order to receive your rewards.
As long as your referral is new to Alpha Impact, they will get a free trial with Pro access to Alpha Impact and $50 to copy trades. Once they have made their first trade, you'll see a clickable button of $20 and $30 reflected on your Reward tab to collect. 
This is what your referrals see after they sign up with your referral code and make a copy trade (see the image below).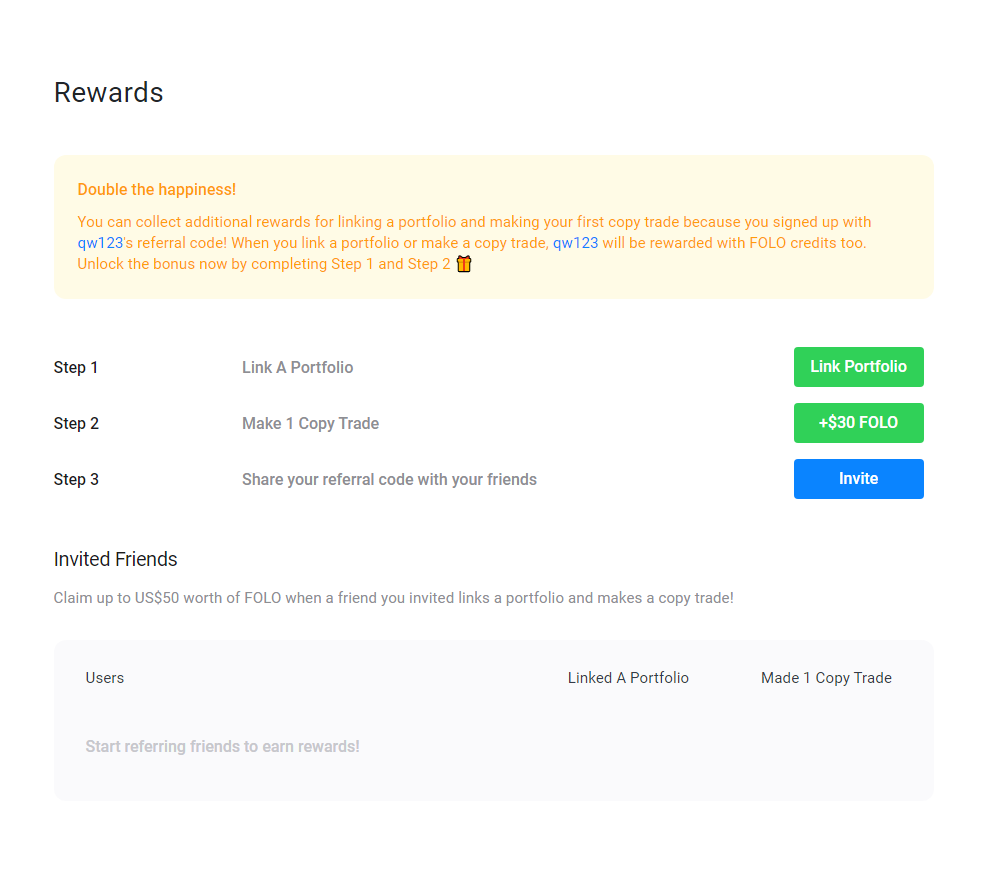 4. Collect your rewards
Once you collect the rewards, FOLO credits will be automatically deposited in your account and the button will show that the amount has been collected. (See the image below)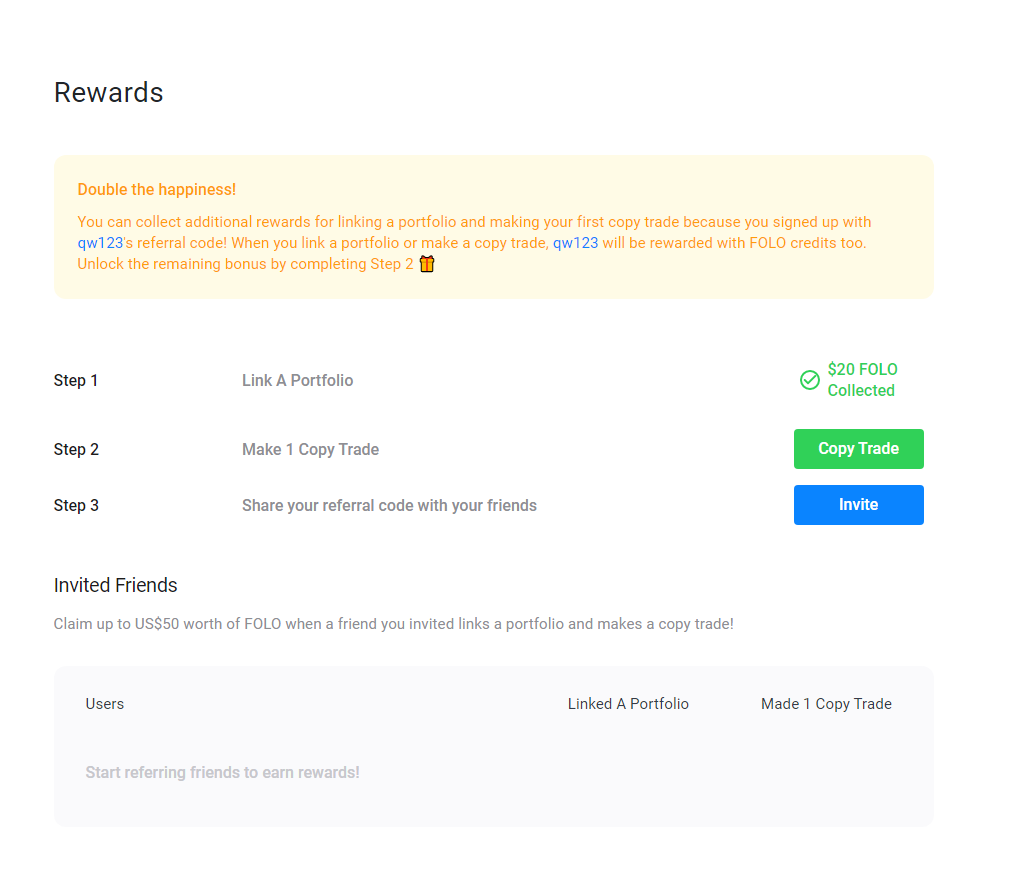 Additional details are available here, including Terms & Conditions.
At present, this referral program offers a limited number of participants the opportunity to sign up. Once the Auto-Copytrading feature is finalized, the referral program might be subject to change for those who have not participated in the program. Hurry before the referral program ends!
Sign up and start earning now!
About Alpha Impact
Crypto Made Easy.
Alpha Impact is a social trading platform designed to bring trust to crypto trading. Whether you want to copy an expert trader automatically or you're already a crypto trader and want to build and monetize your following, we're building the infrastructure to take the guesswork out of crypto trading.
Traders on the Alpha Impact platform are some top-performing crypto traders. In good markets or bad, our traders are incentivized to share their trades and trading strategies through the Alpha Impact platform. Finally, a place where users can filter through the noise and learn about crypto trading from experts with a visible track record. Even better, traders have an incentive to share their investment thesis, analysis of the market, and the reasons behind their trades.
We share our fees with traders, meaning that there is finally an incentive for expert traders to share their activity and views with crypto enthusiasts and beginners.
Built by experts from the traditional finance space, our philosophy is to empower everyone to become a crypto trader. Whether you're a beginner wanting to learn from an expert, or an expert wanting to get paid, we're here to democratize access to this industry, one trade at a time. 
App | Whitepaper | Telegram | Telegram ANN | Medium | Twitter | Facebook | LinkedIn | Github | Instagram | Youtube | Tiktok