Buy FOLO tokens with Low Gas Fees (almost $0 transaction fees)
Experienced traders have been speculating on crypto for years, but what if you're new to the market and are looking to get a piece of the action on FOLO?
Here's how you can start with Alpha Impact. This guide will go through the 9 steps to buy FOLO — Alpha Impact's central currency, where users can use these tokens to pay for subscriptions, and where traders can get monetized.
What is FOLO?
The launch of FOLO tokens on the Polygon network coordinates interactions between Copy Traders looking to copy the most profitable trades and Pro Traders looking to monetize their trading skills and knowledge. This will increase the liquidity for users who hold these tokens.
What can you do with your FOLO?
Alpha Impact's main value proposition is to connect new users eager to enter the crypto world to top traders who wish to share their trades and receive additional rewards for their trading skills.
As Alpha Impact launches our Trader Signals Monetization Program, FOLO tokens will be used as the central currency of the platform. These tokens will be used for subscription payments to the traders as a way for traders to earn incentives on our platform. 
Yellow Paper | Tokenomics Vesting Schedule
Watch this video or simply follow our 9-steps guide below:
The following tutorial is best suited for desktop users.
1. Go to Alpha Impact's "Buy FOLO" page.
2. Make sure you are connected to the Metamask on your browser.
If not, please log in to Metamask and connect to the Polygon network. (Metamask doesn't support the Safari browser. We highly recommend you use these 4 browsers: Chrome, Firefox, Brave, and Edge)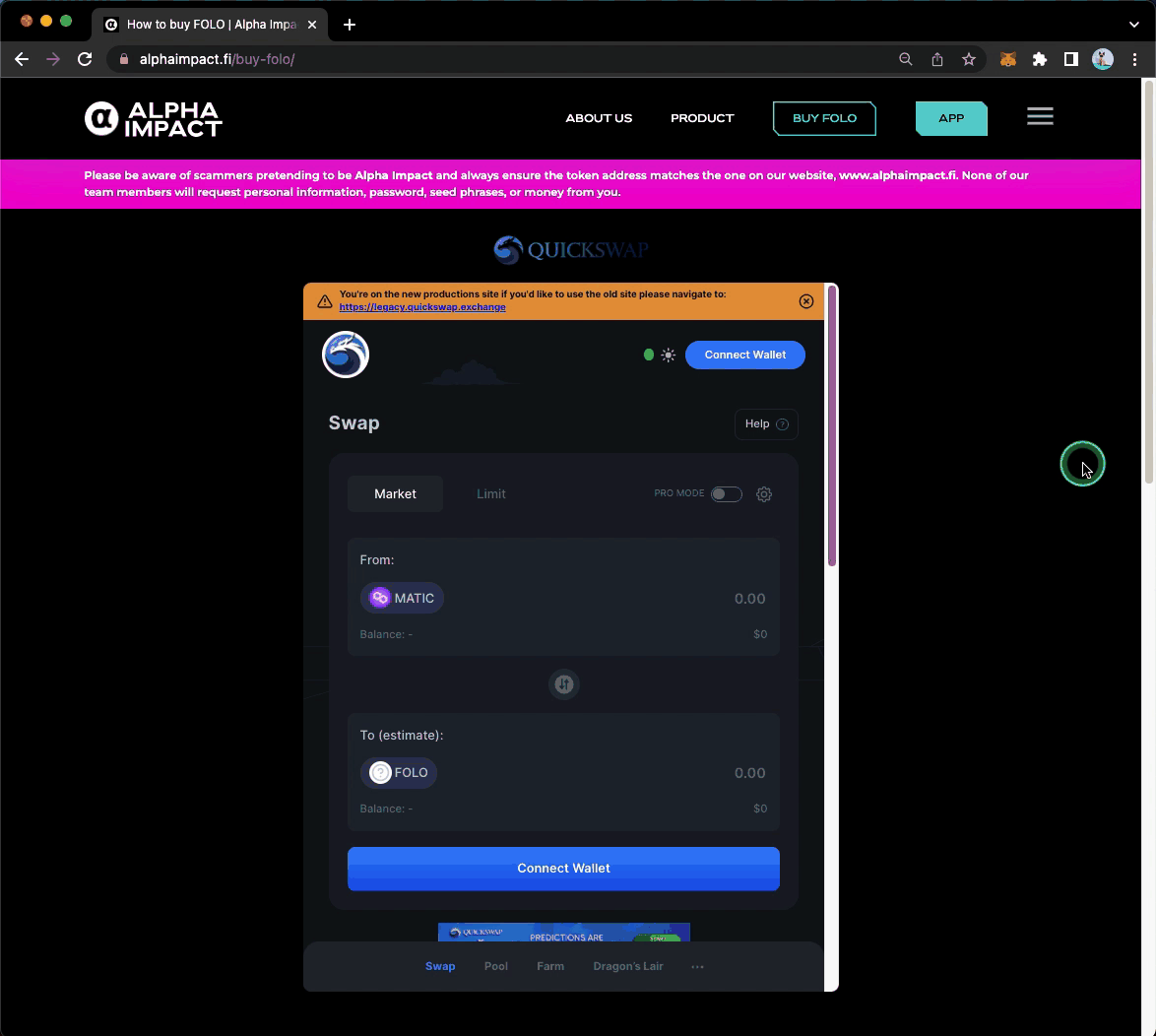 Don't have Metamask? Click here to install it on your browser.
3. Connect your Metamask wallet to the QuickSwap widget by clicking the "Connect Wallet" blue button.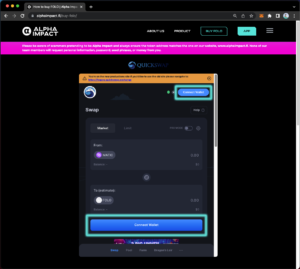 Oops! Don't see the "Connect Wallet" blue button? You are on the wrong network! Or maybe you have not yet changed to the Polygon network on your Metamask account.

Simply click the "Wrong Network" red button and switch your network on Metamask to solve the problem.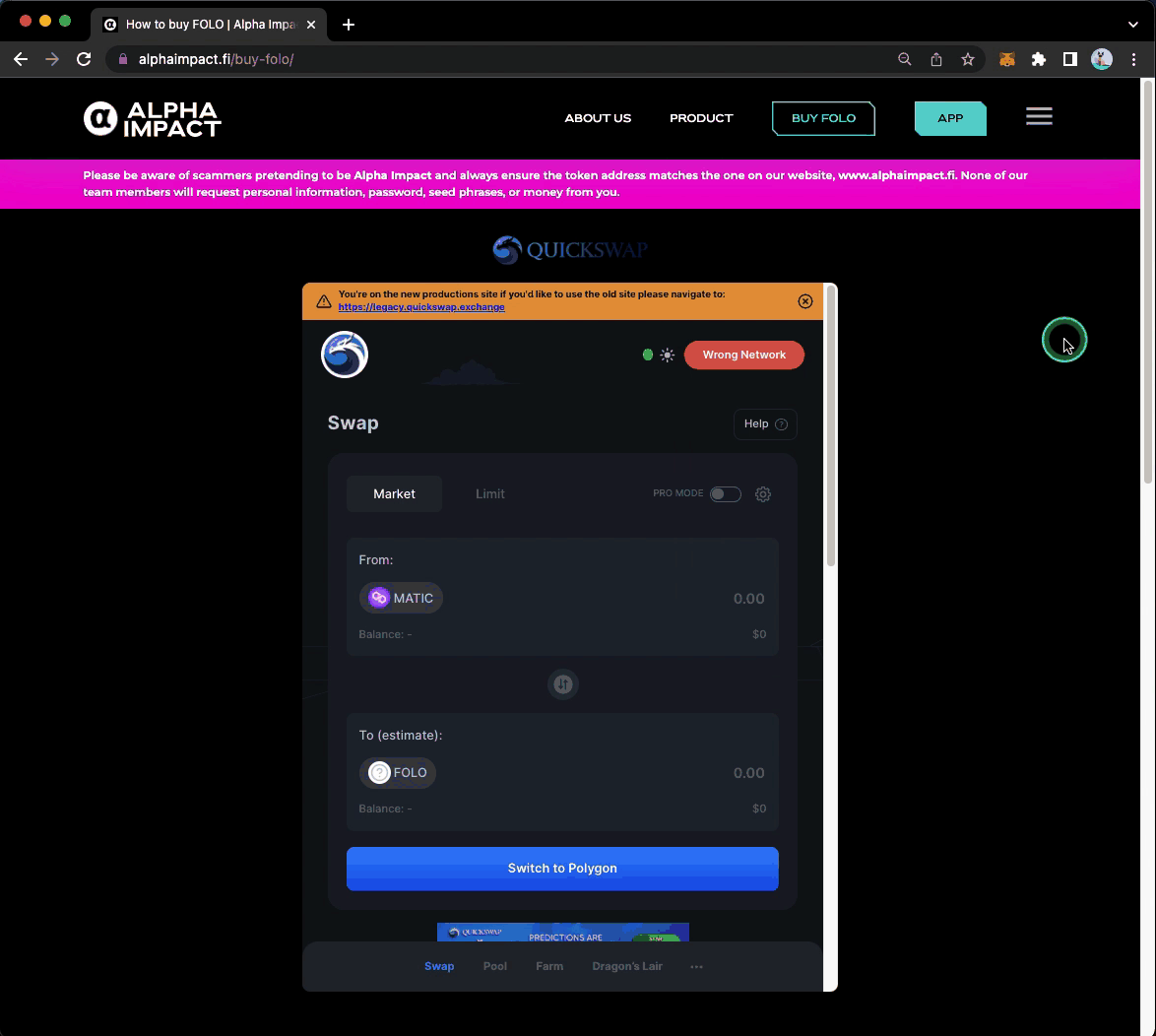 Don't know how to connect to Polygon Network on your Metamask? Click here to see how.

Still having issues? Click here to talk to our team.
Connect your Metamask wallet to QuickSwap by clicking on "Metamask." You can choose and connect other wallets, but we strongly recommend you use Metamask.
4. When Metamask pop-up window appears, select your account and click "Next." In the next step, review and confirm the connection. You will see the connecting screen right after confirmation.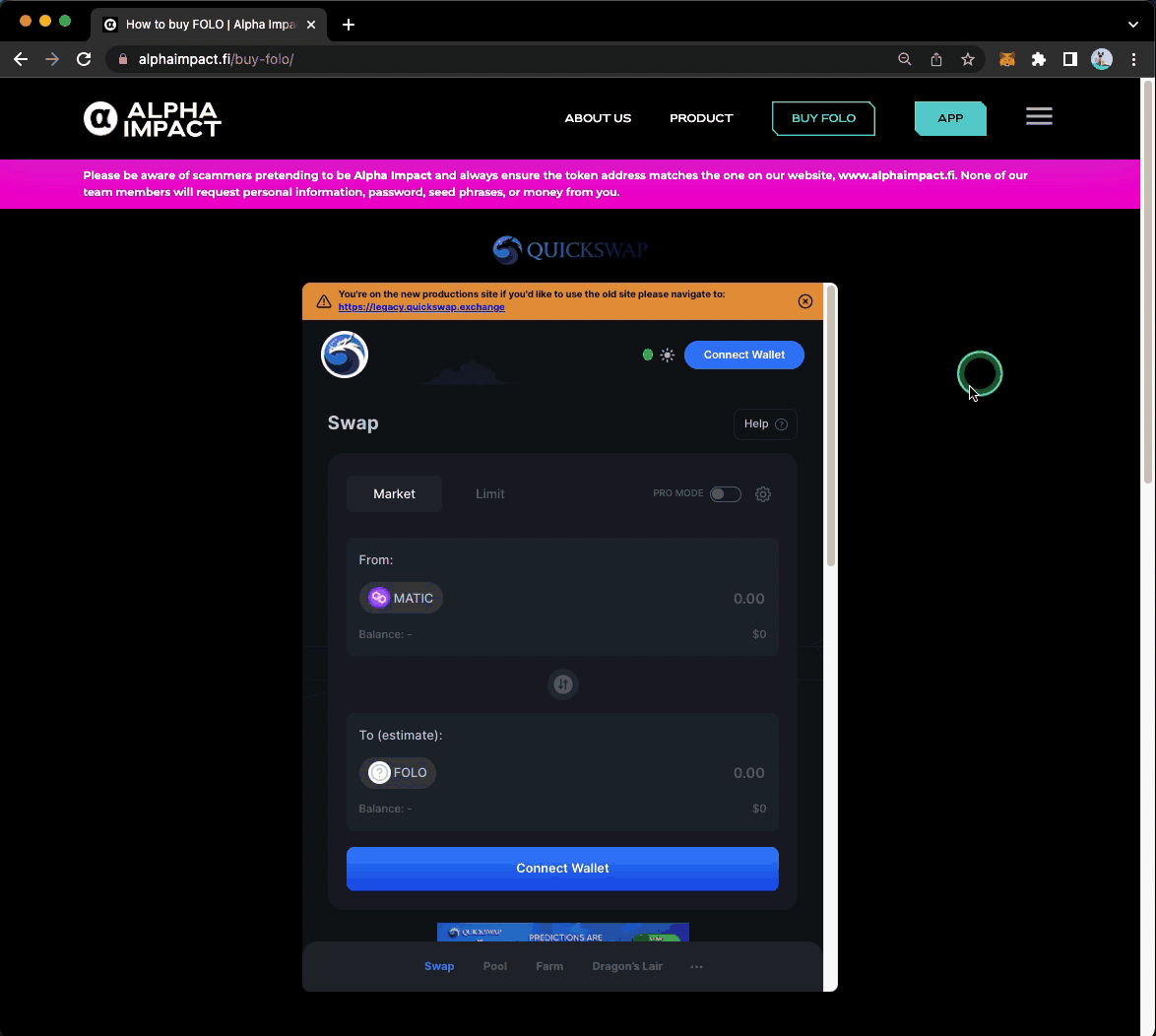 5. After successfully connecting Metamask, the pop-up screen will close itself shortly. You will see the MATIC balance in your Metamask wallet on the QuickSwap widget. Please ensure that you have MATIC to buy FOLO and pay gas fees.
If you don't have MATIC and don't know how to buy MATIC, click here.

Do you want to swap your cryptocurrency to MATIC? Click here to see how to swap your cryptocurrency to MATIC on Metamask.
6. Select an amount of MATIC or other currency you want to swap to FOLO and click "Swap".
Oops! Did the swap fail? Go to "Settings" by clicking the settings icon next to "Pro Mode" toggle switch and adjust your slippage tolerance percentage. You might lead to a failed swap when the slippage only allows 0.1%. So we recommend you set a slippage tolerance higher. Try this and see if you can swap.

If you still face issues, click here to talk to our team.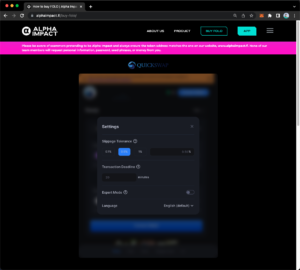 7. Review details and click "Accept" followed by "Confirm Swap".
8. Metamask pop-up screen will appear for you to confirm the transaction. Review details and gas fees and click "Confirm".
9. Well done! Now you have FOLO! Once your transaction is confirmed, you will also receive a notification from Metamask. 🥳
Don't see FOLO in your Metamask wallet? Don't panic! First, you must import the FOLO to view details. To import the FOLO token to MetaMask, open your MetaMask browser extension and click "Import tokens".

Key in FOLO token contract address and the token symbol. The token decimal will be automatically inputted as 18. 

Token Address: 0xef205f99bd869e74b16050199d54327a0ecd343d

Token Symbol: FOLO

Then, click "Add Custom Token" to add the token.
And this is how you buy FOLO! We hope our step-by-step guide will help you get FOLO with no trouble! If you have questions or face problems buying FOLO, click here to talk to our team anytime.
Welcome to the Polygon network! You can now make transactions with much lower gas fees.

🥳🥳🥳
To learn more: 
How to swap your cryptocurrency to MATIC on Metamask?
How to connect Polygon Network to Metamask?
How to deposit FOLO into Alpha Impact? 
About Alpha Impact
Crypto Made Easy.
Alpha Impact is a social trading platform designed to bring trust to crypto trading. Whether you want to copy an expert trader automatically or you're already a crypto trader and want to build and monetize your following, we're building the infrastructure to take the guesswork out of crypto trading.
Traders on the Alpha Impact platform are some top-performing crypto traders. In good markets or bad, our traders are incentivized to share their trades and trading strategies through the Alpha Impact platform. Finally, a place where users can filter through the noise and learn about crypto trading from experts with a visible track record. Even better, traders have an incentive to share their investment thesis, analysis of the market, and the reasons behind their trades.
We share our fees with traders, meaning that there is finally an incentive for expert traders to share their activity and views with crypto enthusiasts and beginners.
Built by experts from the traditional finance space, our philosophy is to empower everyone to become a crypto trader. Whether you're a beginner wanting to learn from an expert, or an expert wanting to get paid, we're here to democratize access to this industry, one trade at a time.
App | Whitepaper | Telegram | Telegram ANN | Medium | Twitter | Facebook | LinkedIn | Github | Instagram | Youtube | Tiktok