Market Insights and Multi-Language Support | What's new in Release 6.3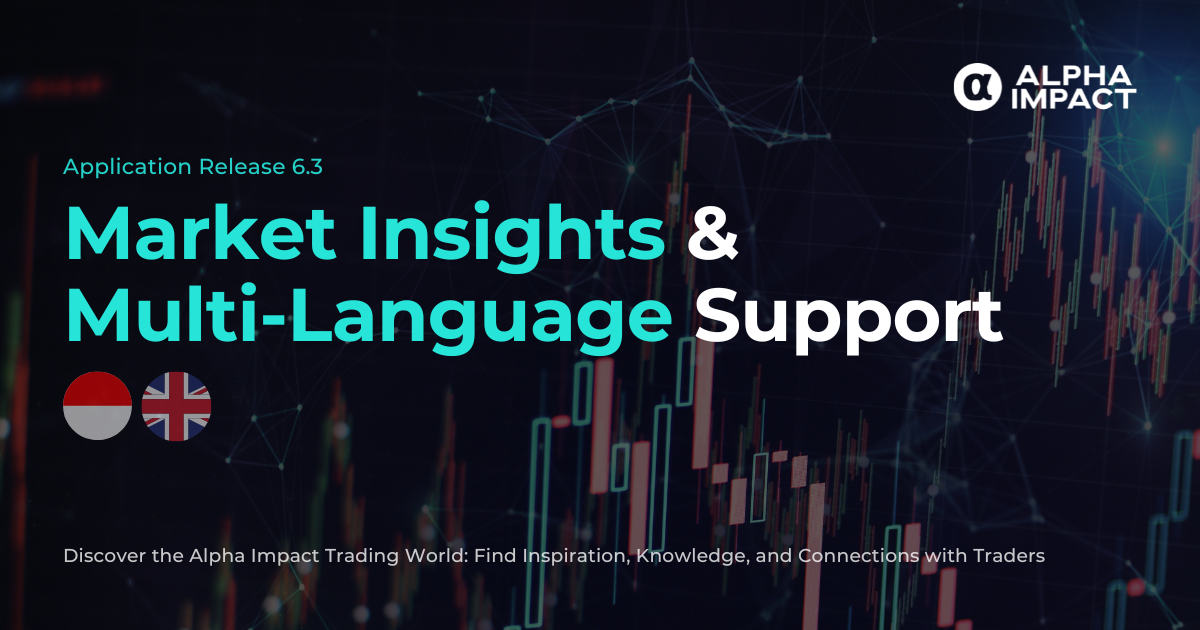 Alpha Impact is committed to continuously enhancing your crypto trading experience. We're excited to unveil two powerful features that will enhance your crypto trading experience. Dive into Alpha Impact's Market Insights for a comprehensive view of the crypto landscape and enjoy the convenience of Multi-Language Support. But that's not all — we've also fine-tuned our platform to make your journey even smoother. Let's explore what's in store!
Make sure to refresh your browser to experience all the latest updates.
Market Insights: Your Gateway to Crypto Knowledge
Market Insights Page & Today's Crypto Widget
Stay ahead of the crypto market with our brand-new Market Insights page. Here, you'll find a comprehensive summary of the top cryptocurrencies, along with their futures and spot trading data.
This invaluable resource that we've prepared will empower you with the information you need to make informed trading decisions without having to navigate to other cryptocurrency market information providers.
For those traders who are more inclined towards futures-trading and are more familiar with trading jargons, these information highlighted above are dedicated for you.
We've also added a widget on the home page to give you a quick overview of top performing cryptocurrencies of the day.
You may access the Market Insights page by clicking on the Today's Crypto widget, or the side navigation bar. Clicking on the horizontal crypto price widget right below the top navigation bar will lead you to this informative page as well.
Multi-Language Support
Expanding Language Horizons
We believe that language should never be a barrier to accessing the world of crypto trading. That's why we're thrilled to introduce multi-language support, starting with Bahasa for Indonesian users. Indonesian users can now toggle between English and Bahasa effortlessly, either through the Nav Bar toggle or the Profile icon dropdown, depending on whether you're on mobile or web browser.
But that's just the beginning. We are dedicated to making crypto accessible to everyone, and you can expect even more languages to be added in the future. Keep an eye out for updates as we continue to expand our language offerings!
Enhanced User Experience
Streamlined Navigation
We've made it even easier for you to access the latest news and updates. Simply navigate to Latest News section on the home page and click on View All, which will lead you to plethora of Alpha Impact's medium articles which will assist you in staying informed about our latest developments.
Telegram Notifications for Monetized Profiles
When a trader monetizes their profile, their followers will now receive notifications and prompts to subscribe via Telegram. This feature ensures that you never miss out on the insights and strategies of your favorite traders on the platform.
Telegram and In-App Notifications for Spot Rebalance
Copiers using the SPOT autocopy feature will now receive Telegram and In-App notifications whenever a successful or partially successful rebalance occurs, which allows you to stay in the loop about your portfolio with greater ease.
Express Checkout for FOLO Boost
Boosting your posts to increase exposure to the rest of the community is now quicker and more convenient than ever. We've updated the "Buy FOLO" links to include an express checkout method for purchasing the FOLO tokens. Also, you'll now be able to see an indication of the amount of FOLO required to boost your post and how much FOLO you're short of when attempting to boost a post with insufficient FOLO in your in-app wallet. More information on how to buy FOLO via express checkout in this article.
Other Enhancements
Improved Futures (USD-M) Cumulative PnL Charting
We've progressively improved the algorithms for charting cumulative PnL in futures (USD-M) portfolio tracking for greater accuracy. This improvement ensures that you have a precise view of your USD-M portfolio's trading performance. Do contact us on Telegram if you spot any absurd behaviour of your USD-M performance chart.
Minor UX Enhancements and Bug Fixes
As always, we've worked on various minor UX enhancements, scalability improvements, bug fixes, and house cleaning to provide you with a smooth and reliable platform.
About Alpha Impact
Crypto Made Easy.
Alpha Impact is a social trading platform designed to bring trust to crypto trading. Whether you want to copy an expert trader automatically or you're already a crypto trader and want to build and monetize your following, we're building the infrastructure to take the guesswork out of crypto trading.
Traders on the Alpha Impact platform are some of the top-performing traders in crypto. In good markets or bad, our traders are incentivized to share their trades and trading strategies through the Alpha Impact platform. Finally, a place where users can filter through the noise and learn about crypto trading from experts with a visible track record. What's even better is that traders have the incentive to share their investment thesis, analysis of the market, and the reasons behind their trades.
Built by experts from the traditional finance space, our philosophy is to empower everyone to become a crypto trader. Whether you're a beginner wanting to learn from an expert, or an expert wanting to get paid, we're here to democratize access to this industry, one trade at a time.
App | Website | Whitepaper | Telegram | Telegram ANN | Medium | Twitter | Facebook | LinkedIn | Github | Instagram | Youtube | Tiktok