How can I make my news feed less cluttered and filter out unwanted spam and noise?
Alpha Impact has a new filter on the Home feed, to select between Relevant Posts and All Posts, to view all the hidden content the Moderators have deemed irrelevant.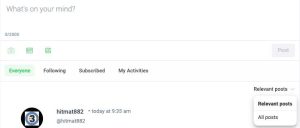 Deleted posts will not show up here, but on a Moderator view only.
To read more:https://alphaimpact.fi/2023/02/16/application-release-4-4-filter-it-out-alpha-impact-home-feed-customization/