What is On-Chain Analysis for Crypto?
Thanks to the transparency of public blockchain data, there's a world of rich analysis of activity on the blockchain, called "on-chain data." In this guide, we'll break down what on-chain crypto analysis is, its benefits, and how you can use it to improve your investing and trading with Alpha Impact.
Brief History
Like crypto itself, on-chain analysis is a newer field. It refers to the analysis done by people and machines all over the world to extract and analyze the vast amount of publicly-accessible blockchain data. These insights into the fundamentals of a given network are used to inform better crypto decision-making, from trading to investing and more.
Within the field of on-chain analysis, several widely-used metrics have emerged over the years. One of the first was Coin Days Destroyed, created in 2011 to track activity on the Bitcoin network.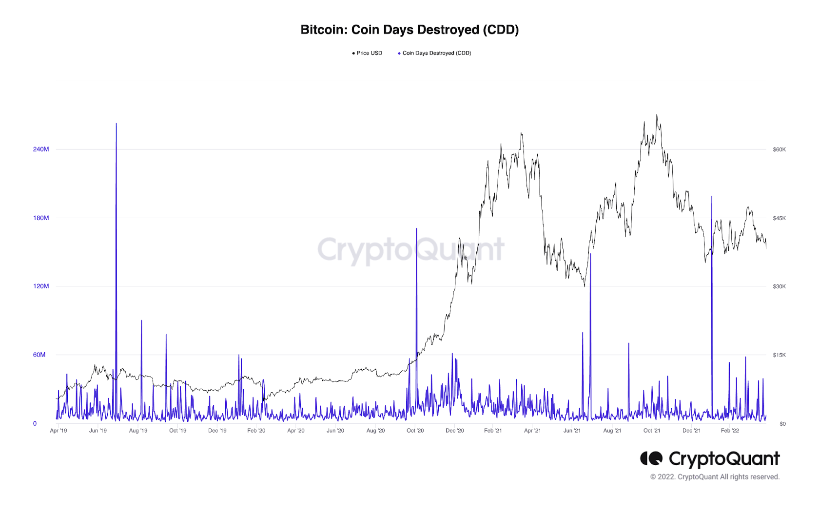 A comparison of BTC's price in USD and Coin Days Destroyed (CDD) in the last year, via CryptoQuant.
In 2017, Coin Metrics introduced the Network Value-to-Transaction (NVT) ratio to value BTC by considering its market cap and usage via network transactions.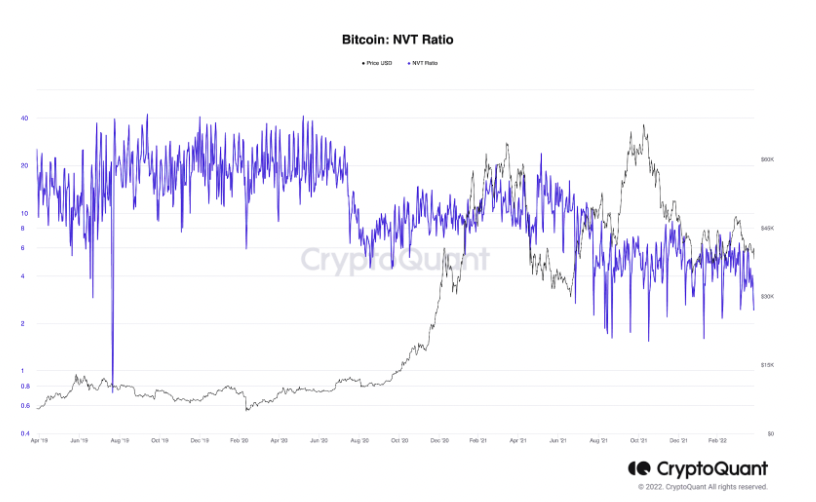 A comparison of BTC's price in USD and Network Value-to-Transaction (NVT) ratio in the last year, via CryptoQuant.
What began as a few analysts pulling data on crypto buys and compiling spreadsheets has now evolved into a fast-growing body of complex and useful analysis. Today, there's a multitude of on-chain indicators that investors use to inform their activity.
Benefits of Key Metrics
Any good investor knows the value of having good data on your asset class. Correspondingly, there are numerous advantages to incorporating on-chain data analysis into your trading process. 
On-chain data helps traders determine demand on a given network based on what's happening on the blockchain. On-chain metrics also provide insight into market and investor behavior. For example, market capitalization gives you a look into the participation of traders across the market while realized capitalization helps you estimate long-term investor participation. 
These are some of the factors investors may evaluate when making decisions:
Number of active addresses

Number of new addresses

Volume of transactions

Network value to transaction (NVT) ratio

Exchanges inflow/outflow

HODL (Holding On for Dear Life) Waves
On-Chain Tools
In this section, we'll cover some of the many on-chain tools and platforms out there. First, let's look at an overview of how these tools work.
Inspection: On-chain analysis platforms will inspect a blockchain to review the available data.

Identification: The platforms will highlight the relevant data such as gas price, address, or values. 

Clustering: The retrieved data is grouped to understand similarities and patterns better.

Modeling: With the clustered data, the platform or tool can build a data model to flesh out how the data points are related.

Visualization: Finally, the tool presents the data in helpful charts or graphs.
Coin Metrics
Founded in 2017, Coin Metrics aims to provide investors with detailed market information on all the major cryptos. It offers users network and market data, indexes, and third-party data.
Glassnode
Located in Switzerland, Glassnode has a user-friendly interface and a wide list of ever-growing on-chain indicators. Glassnode provides a broad array of data points, in-depth reports, and indicators.
DappRadar
DappRadar provides insights on over 3,000 Decentralized Applications or dapps. DappRadar's platform serves as a central location for ranking popular distributed computing systems as well as a distribution channel for developers. 
Dune Analytics
Focusing mostly on Ethereum, Dune Analytics provides its users with analysis into Ethereum smart contracts and actionable insights through graphs and reports. Founded in 2018, its focus is making crypto analysis consumable and accessible.
IntoTheBlock
IntoTheBlock provides advanced crypto asset indicators. Based in Miami Florida, IntoTheBlock focuses on seven categories of metrics including more than 250 indicators and signals related to ownership, social use, network, and more.
CryptoQuant
Based in Seoul, CryptoQuant focuses on Bitcoin, Ethereum, and stablecoins which are tied to either cryptocurrency, fiat money, or exchange-traded commodities. CryptoQuant provides on-chain and exchange data, data from the network, and data from mining.
Xangle
Xangle merges on and off-chain data to analyze a wide range of blockchain assets. It provides statistics on a dashboard page for each project. Other on-chain tools include Anyblock Analytics Index, Santiment, Messari, Breadcrumbs, CQ.Live, and Nansen.
Get Top Analysis from Alpha Impact
The importance of emerging on-chain analytics approaches cannot be overstated. Over the last few years, a number of new players have arisen, each offering a variety of easy-to-use on-chain and off-chain indications and data sets. Overall, on-chain analysis is here to stay, and it will certainly expand in tandem with the widespread adoption and innovation of Blockchain technology.
If you want to learn more about how top traders put crypto on-chain analysis into action and how you can copy their trading, you can create an account on Alpha Impact today. Learn more about how Alpha Impact can help you here.
About Alpha Impact
Crypto Made Easy.
Alpha Impact is a social trading platform designed to bring trust to crypto trading. Whether you want to copy an expert trader automatically or you're already a crypto trader and want to build and monetize your following, we're building the infrastructure to take the guesswork out of crypto trading.
Traders on the Alpha Impact platform are some top-performing crypto traders. In good markets or bad, our traders are incentivized to share their trades and trading strategies through the Alpha Impact platform. Finally, a place where users can filter through the noise and learn about crypto trading from experts with a visible track record. Even better, traders have an incentive to share their investment thesis, analysis of the market, and the reasons behind their trades.
We share our fees with traders, meaning that there is finally an incentive for expert traders to share their activity and views with crypto enthusiasts and beginners.
Built by experts from the traditional finance space, our philosophy is to empower everyone to become a crypto trader. Whether you're a beginner wanting to learn from an expert, or an expert wanting to get paid, we're here to democratize access to this industry, one trade at a time. 
App | Whitepaper | Telegram | Telegram ANN | Medium | Twitter | Facebook | LinkedIn | Github | Instagram | Youtube | Tiktok | Reddit