How to Copy Trade on Alpha Impact?
People often believe the only way to profit in the crypto world is by being an expert in finance and technology, and many struggles are stuck under pressure to reach that. But actually, there are many helpful tools available to ease your pain. If you're new to trading or looking into different ways to trade, then Copy Trading might be the answer for you.
What is Copy Trading? And How it works?
Copy trading is a trading strategy that identifies profitable traders and mimics their trades. Copy trading is an excellent choice for beginners, especially because you don't need a complete understanding of the crypto market. By copy trading, you can use the expertise of other traders to make smart decisions while other traders are focusing on market trends and trying new or complex trading strategies.
Copy trading can be beneficial even if you are familiar with the crypto market and trading. Using copy trading allows you to see how other traders make decisions and learn more broad ideas on future strategies for your needs. 
On Alpha Impact, there are many expert traders you can discover and see their performance anytime. This article will guide you through how to copy trade expert traders on the Alpha Impact platform.
How to copy trade on Alpha Impact?
Do make sure the following details before attempting to copy trade on Alpha Impact:
Create an account on Alpha Impact.

Click here

to sign up.

Link at least one portfolio to Alpha Impact. We support FTX, FTX US, Binance, and KuCoin Exchanges.
*For Binance users, please ensure that 'Spot and Margin Trading' has been enabled for your Binance API key settings.
The following guide is a walk-through of copy trading manually on Alpha Impact. Auto-copy trading will be launching soon. Join our community here to get updated when it's available!
1. Log in to app.alphaimpact.fi
If you have a friend's referral code, please key in so that you and your friend can get a reward of up to $50! For more details, refer here.
2. Select a trader you want to copy trade and go to the trader's portfolio dashboard.
If you are new to Alpha Impact, you can discover traders on the "Discover" page.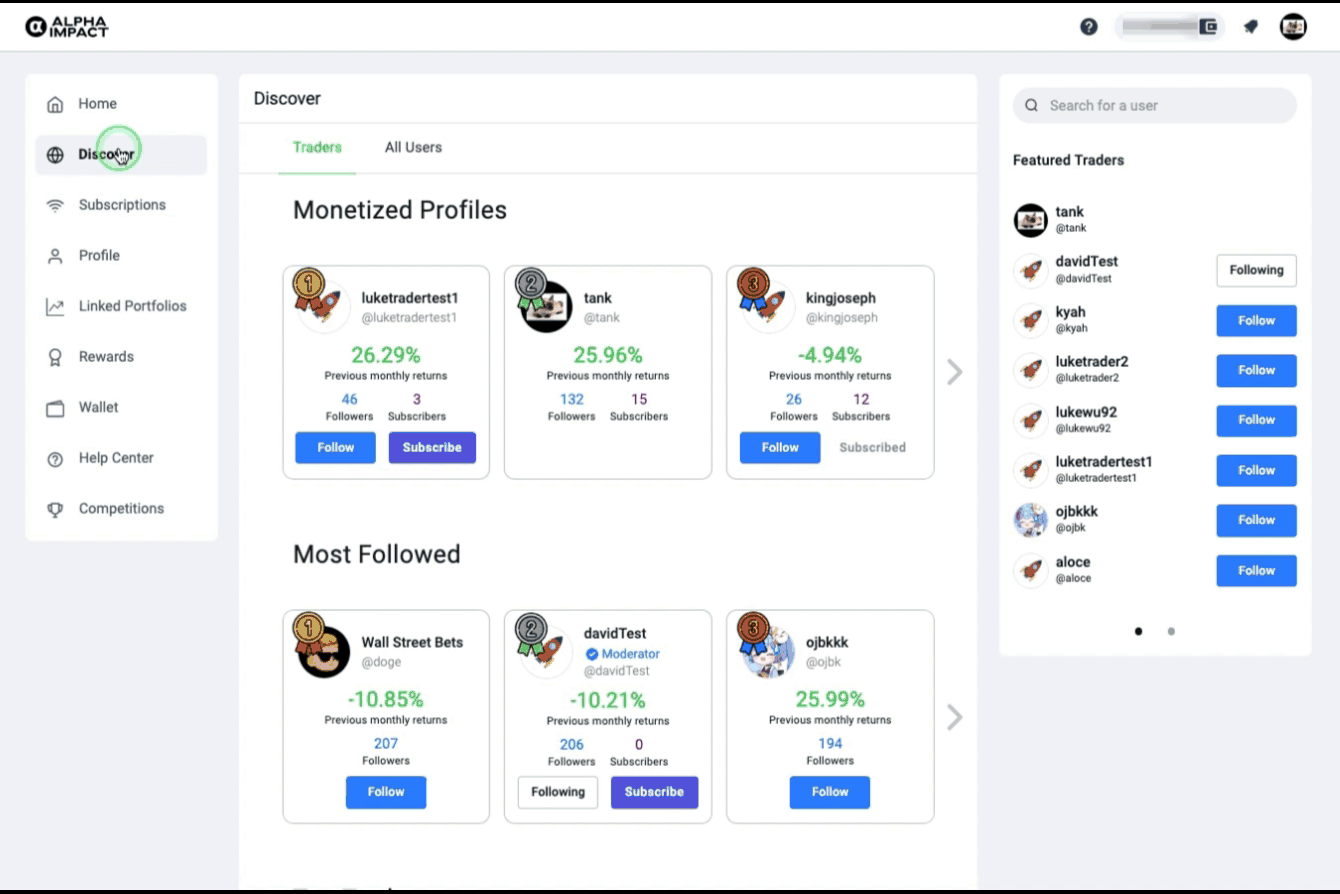 3. On the first section of the portfolio dashboard, you can see the trader's trading history and copy the trade by clicking on the "Quick copy" blue button.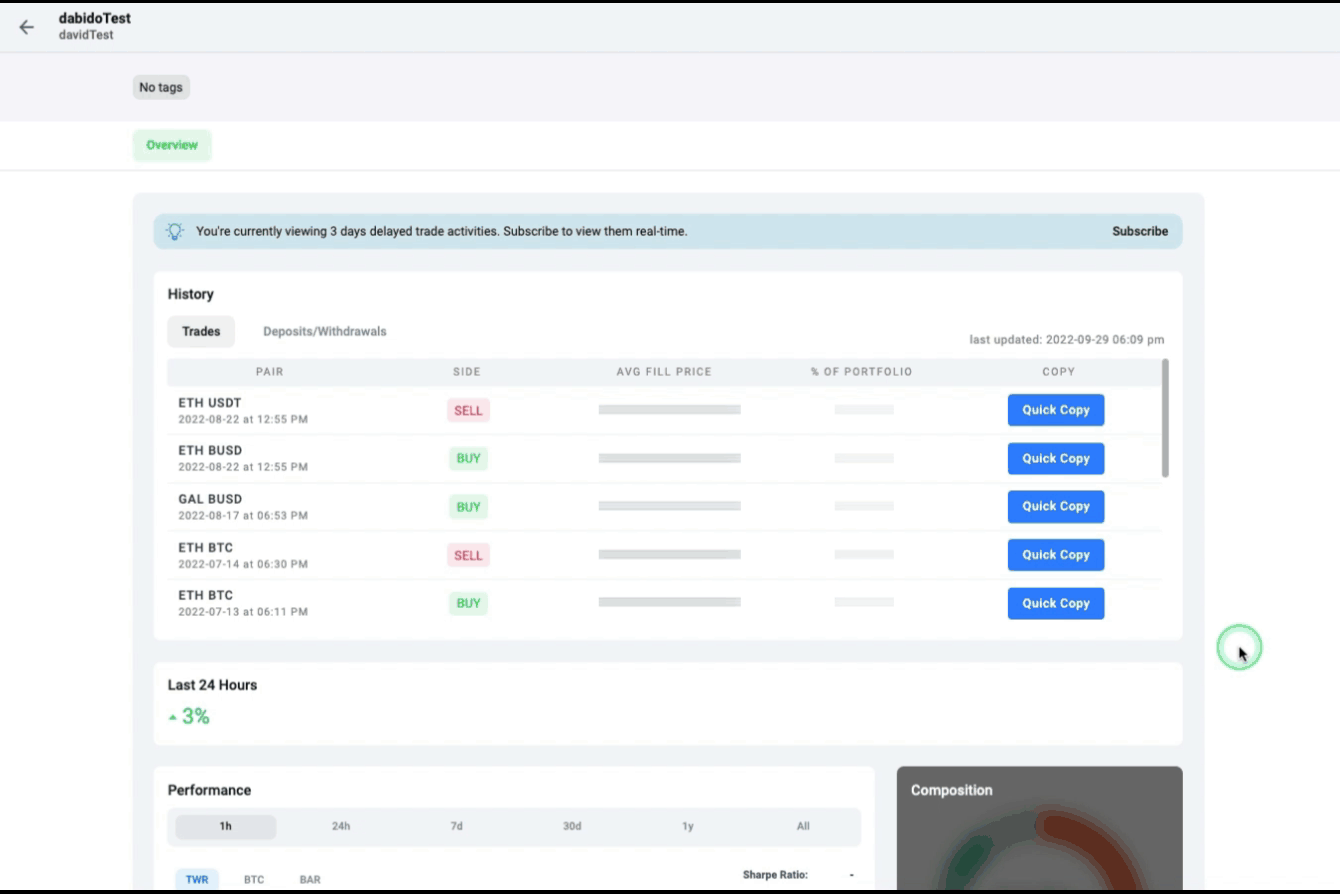 Please note that you will only be able to access the trader's real-time Trades(Signals) history after subscribing to the trader. Alpha Impact recommends subscribing to traders to have the best trading experience. Learn more about Alpha Impact signals here.
4. Place an order to Buy or Sell with the desired copy amount and click "Copy Trade"
Select a trader portfolio, buy or sell, and put the amount to complete copy trading the trader on Alpha Impact.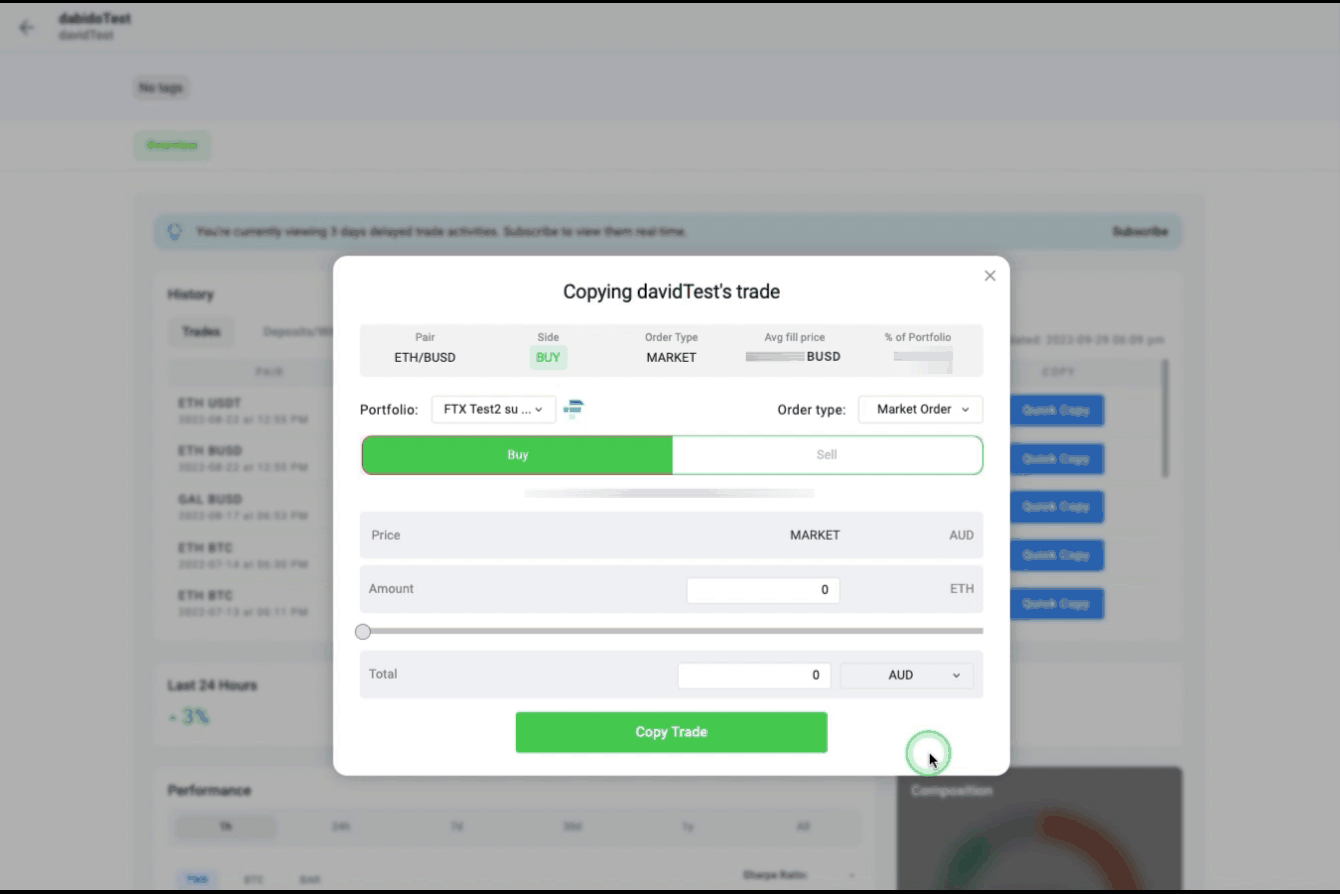 And you are done!
**FYI, There is a quicker way to copy trade on Alpha Impact! —- introducing "Quick Copy"**
You will receive a notification from traders about their recent trades, and without going elsewhere, you can copy their trades right away by clicking "Quick Copy". You can find the "Quick Copy" option when you go to the "Notifications" icon on the top right navigation bar.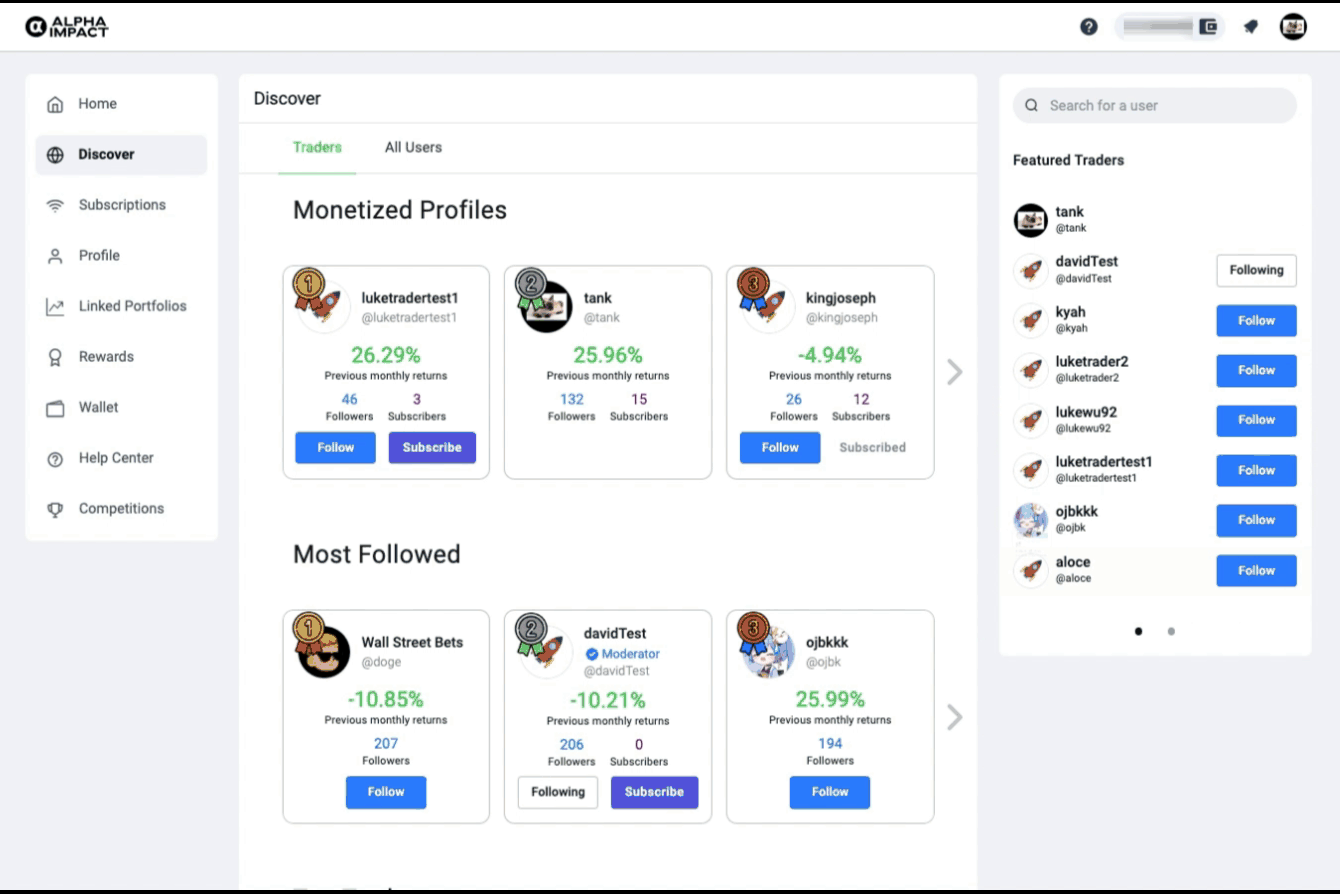 Unable to "Quick Copy"? Binance future, Binance limit order, and FTX future copy trading is coming soon on Alpha Impact! Join our community here to get updated when it's available!
This is how you can copy trade expert traders on the Alpha Impact platform! Need more help? Contact our team via Telegram Community or email team@alphaimpact.fi
Happy Trading!
About Alpha Impact
Crypto Made Easy.
Alpha Impact is a social trading platform designed to bring trust to crypto trading. Whether you want to copy an expert trader automatically or you're already a crypto trader and want to build and monetize your following, we're building the infrastructure to take the guesswork out of crypto trading.
Traders on the Alpha Impact platform are some top-performing crypto traders. In good markets or bad, our traders are incentivized to share their trades and trading strategies through the Alpha Impact platform. Finally, a place where users can filter through the noise and learn about crypto trading from experts with a visible track record. Even better, traders have an incentive to share their investment thesis, analysis of the market, and the reasons behind their trades.
We share our fees with traders, meaning that there is finally an incentive for expert traders to share their activity and views with crypto enthusiasts and beginners.
Built by experts from the traditional finance space, our philosophy is to empower everyone to become a crypto trader. Whether you're a beginner wanting to learn from an expert, or an expert wanting to get paid, we're here to democratize access to this industry, one trade at a time.
App | Whitepaper | Telegram | Telegram ANN | Medium | Twitter | Facebook | LinkedIn | Github | Instagram | Youtube | Tiktok