Binance Futures USD-M Auto-Copy trading | What's new in Release 6.2
Discover the Alpha Impact Trading World: Find Inspiration, Knowledge, and Connections with Traders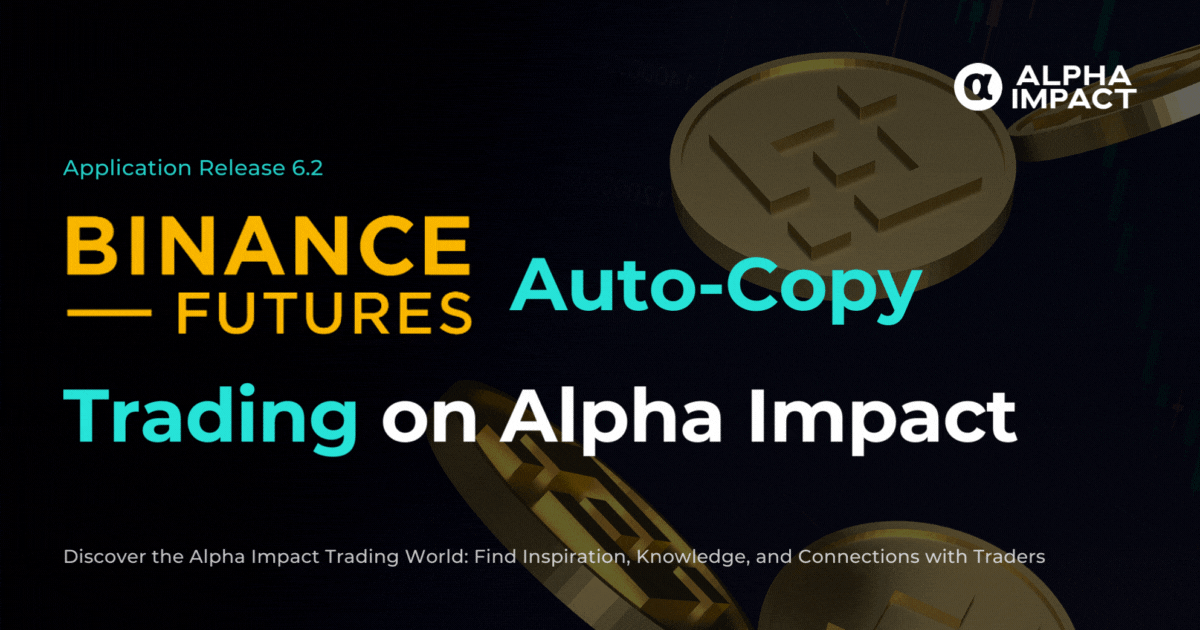 The moment you've been eagerly awaiting has arrived. We're beyond thrilled to present to you a milestone that will reshape the way you trade, strategize, and succeed. Brace yourselves as we unveil the star of the show in Alpha Impact Release 6.2: the Binance Futures USD-M Auto-Copy feature. This release is a game-changer, bringing forth the long awaited Binance Futures USD-M Auto-Copy feature, other enhanced functionalities, and improved user experience. Let's dive right into the exciting advancements that await you.
Binance Futures USD-M Auto-Copy
Prepare to supercharge your trading potential with Binance USD-M Futures Auto-Copy feature. We're excited to announce that Monetised Traders can now make their Binance USD-M Portfolios auto-copyable along with their SPOT portfolios, offering their subscribers the opportunity to follow their trading strategies in the fast-paced world of futures trading.
What's even more exhilarating is that when you auto-copy USD-M portfolios, you'll mirror the trader's positions trade-by-trade. Each trade will open with a fixed amount, which you have the power to customize when you choose a USD-M portfolio to auto-copy with, while ensuring your account's safety with a maximum leverage of 5x. We prioritize your security and success, and this update embodies that commitment.
Let's walk you through the simple steps to kickstart your journey of a USD-M Copier:
Step 1: Go to your choice of Trader's USD-M portfolio which you would like to auto-copy and click on the pink 'Auto Copy' Button.
Step 2. Before proceeding, it's crucial to read and understand some important information regarding USD-M Auto-Copy.
Step 3: Choose a USD-M portfolio that you would like to use to auto-copy!
Note that there could be some reasons as to why your USD-M portfolio may not be eligible to be used, and we have filtered your portfolios for you so that it's easier for you to choose from. You can also view your current positions and open orders for each portfolio so that you can make an informed decision in choosing the right portfolio as these positions and open orders will be automatically closed by Alpha Impact's Auto-Copy trading mechanism upon successful commencement.
Wondering why some of your portfolios aren't listed as an eligible option?
You can find out why by clicking on 'Here's why', which will open a pop-up listing all of your USD-M portfolios that are ineligible and the corresponding reason(s) and actions to be taken.
Step 4: Set a Fixed Copy Amount that you would like to use to copy per order.
Take note that it can't exceed your current USD-M portfolio's total portfolio value and as we aim to minimize Copier's risks as much as possible, we have set a maximum leverage to be 5X for each order.
Before proceeding to the confirmation step, take some time to read the copy rules listed below, or click 'View all' to read an in-depth guidelines provided on our website: Auto-Copy Trading Rules for Binance Futures.
Step 5: Confirmation Stage
Double confirm that you have chosen the correct portfolio and tick the acknowledgement checkboxes before beginning your USD-M auto-copy trading journey!
And…….. that's it!
You'll be redirected to your own portfolio where you'll be able to see that your USD-M portfolio's performance has been reset so that the portfolio's performance tracking starts on a clean slate, enabling you to visualise the results of auto copy with ease. You'll also notice that the positions and orders that were previously open prior to auto-copy have now been closed/cancelled!
Upon receiving a real-time auto-copy trade details via Alpha Impact's Telegram bot, you can quickly view a summary of the order details.
Proceed to view your portfolio and you will see the same position being reflected on both you and the Trader's portfolios.
Is your USD-M portfolio performing poorly due to Trader's bad calls? Fret not, you may stop auto-copying whenever and wherever. Simply click on 'Stop Auto Copy' button and decide whether you would like Alpha Impact to close all current positions upon stopping auto-copy. We provide this option in order to give more flexibility and better user experience for Copier.
As the curtain rises on the revolutionary Binance Futures USD-M Auto-Copy feature, our commitment to enhancing your experience remains unwavering. Beyond the excitement of Futures Auto-Copy, we've further improved your Home Feed as well as real-time updates of positions/open-orders on your portfolios.
Streamlined Positions & Open-orders Updates: Real-time and Hassle-free
Gone are the days of manually refreshing your page to stay updated on your Positions and open orders. With this release, we're introducing additional real-time data updates that are crucial for portfolio-tracking. Your portfolio's performance will be at your fingertips, consistently updating without requiring any manual intervention on your end. This enhancement guarantees you stay informed real-time.
Enhanced Social Feed Experience: Insights at Your Fingertips
Our commitment to refining the social aspect of your Alpha Impact experience remains unchanged. We've retrained and improved our AI Moderator model, achieving an impressive 94% accuracy in labelling irrelevant posts. This ensures that your feed is filled with content that matters most to you — relevant and valuable trading insights.
But that's not all. We've further organized your post comments into two distinct categories: Relevant & All Comments. Now, relevant comments take precedence are displayed by default. You can always choose to explore all comments by toggling the filter to 'All Comments'.
Other Minor UX Enhancements
Scalability improvements, and house cleaning
Join us in exploring the exciting world of auto-copyable portfolios for monetized traders and unlock the potential for profitable trading with Alpha Impact!
Happy trading from the entire Alpha Impact team!
About Alpha Impact
Crypto Made Easy.
Alpha Impact is a social trading platform designed to bring trust to crypto trading. Whether you want to copy an expert trader automatically or you're already a crypto trader and want to build and monetize your following, we're building the infrastructure to take the guesswork out of crypto trading.
Traders on the Alpha Impact platform are some of the top-performing traders in crypto. In good markets or bad, our traders are incentivized to share their trades and trading strategies through the Alpha Impact platform. Finally, a place where users can filter through the noise and learn about crypto trading from experts with a visible track record. What's even better is that traders have the incentive to share their investment thesis, analysis of the market, and the reasons behind their trades.
Built by experts from the traditional finance space, our philosophy is to empower everyone to become a crypto trader. Whether you're a beginner wanting to learn from an expert, or an expert wanting to get paid, we're here to democratize access to this industry, one trade at a time.
App | Website | Whitepaper | Telegram | Telegram ANN | Medium | Twitter | Facebook | LinkedIn | Github | Instagram | Youtube | Tiktok