Elevating Risk Management in USD-M Copy Trading | What's New in Release 6.4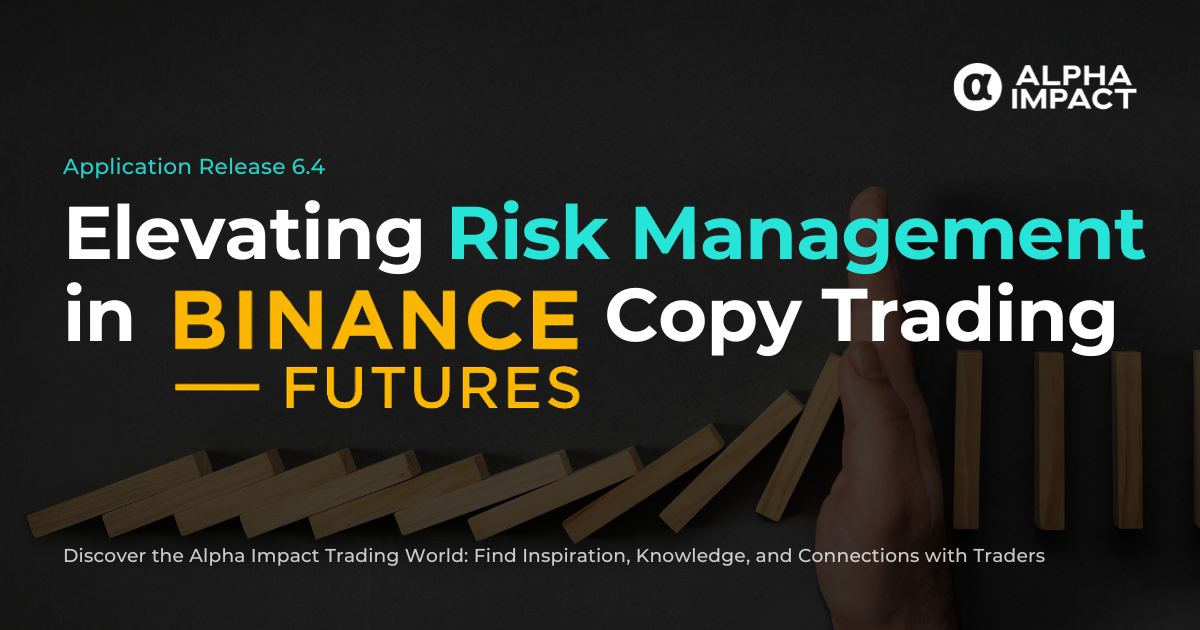 In Alpha Impact Release 6.4, we are revolutionizing USD-M copy trading with advanced risk management tools. Explore our new features, including editable fixed copy amounts and Take Profit and Stop Loss settings, designed to empower traders like never before. Discover how Alpha Impact is elevating risk management in the world of crypto trading.
Make sure to refresh your browser to experience all the latest updates.
Risk Management for Binance USD-M Futures Copy
Enhanced Copier Control
In this release, we are empowering our copiers like never before. You can now fine-tune your copy trading experience with the ability to edit the Fixed Amount for each copy trade within your Binance Futures USD-M portfolios. This means greater control over your investments and the flexibility to adjust your trading strategy on the fly as you leave the trading part to the experts.
Intelligent Take Profit and Stop Loss
Managing your Binance Futures USD-M portfolio is now more intelligent and efficient. Traders can set Take Profit (TP) and Stop Loss (SL) values for their Binance Futures USD-M wallet balance.
For copiers utilizing our copy trading feature, TP and SL can also be set. Once these levels are reached, copy trading will stop automatically, and all positions will be closed on behalf of the copier, guaranteeing a hassle-free experience.
What's more, these TP and SL values will be visible on your USD-M Wallet Balance chart, providing you with a clear visual representation of your risk management.
When your TP or SL is hit, Alpha Impact will automatically close all your positions, ensuring that your risk management strategy is executed precisely, even when you're not actively monitoring the market. Of course, you still have the option to manually close your positions directly through Alpha Impact. We provide TP/SL support for SPOT portfolios as well.
Improved Portfolio Management
Independent restting of SPOT & USD-M Portfolios
Traders, we hear you loud and clear. You can now reset your SPOT and USD-M portfolios independently, allowing you to track each type of portfolio independently.
Precise PnL Calculation
We've introduced a new TWR (Time-Weighted Return) formula for calculating Futures USD-M cumulative PnL percentage values. This new algorithm that we've successfully applied to all USD-M portfolios has enhanced the accuracy of portfolio tracking, ensuring that you have a crystal-clear and precise view of your portfolio performance.
Transparent Fee Structure
Transparency is at the heart of Alpha Impact. Starting with Release 6.4, we will charge a platform fee in FOLO on a monetized trader's monthly subscription earnings release. This ensures that our fee structure is fair and aligned with our commitment to provide you with the best trading experience.
Enhanced AI Moderator
Refined Content Moderation
Our AI moderator is now sharper than ever. We've re-trained it using the latest training data set from Alpha Impact, ensuring that your content remains in line with our community guidelines.
UX Enhancements
We've taken your feedback to heart and made significant improvements to enhance your overall user experience. Here are some of the highlights:
Bahasa Language Support: We've added more support for Bahasa language in our login/registration and our new market data page, ensuring that our platform is accessible to a wider audience.
Improved Trade Remarks: Traders can now tag their Futures trades (or multiple trades) in their posts directly from the global feed, making it easier to highlight entry and take profit levels.
Easier Portfolio View: Users can now view portfolios based on the previously selected time interval when clicking on a trader's portfolio from the discover page, making it more user-friendly.
Minor Enhancements: Of course, we haven't forgotten about the smaller details. Release 6.4 also includes scalability improvements, bug fixes, and house cleaning to keep your experience smooth and trouble-free.
This release represents a significant leap forward for Alpha Impact, bringing you risk management tools, greater control, transparency, and an enhanced user experience. We're excited to see how you leverage these new features to elevate your trading journey.
Thank you for being part of the Alpha Impact community, and here's to profitable and informed trading with Release 6.4!
About Alpha Impact
Crypto Made Easy.
Alpha Impact is a social trading platform designed to bring trust to crypto trading. Whether you want to copy an expert trader automatically or you're already a crypto trader and want to build and monetize your following, we're building the infrastructure to take the guesswork out of crypto trading.
Traders on the Alpha Impact platform are some of the top-performing traders in crypto. In good markets or bad, our traders are incentivized to share their trades and trading strategies through the Alpha Impact platform. Finally, a place where users can filter through the noise and learn about crypto trading from experts with a visible track record. What's even better is that traders have the incentive to share their investment thesis, analysis of the market, and the reasons behind their trades.
Built by experts from the traditional finance space, our philosophy is to empower everyone to become a crypto trader. Whether you're a beginner wanting to learn from an expert, or an expert wanting to get paid, we're here to democratize access to this industry, one trade at a time.
App | Website | Whitepaper | Telegram | Telegram ANN | Medium | Twitter | Facebook | LinkedIn | Github | Instagram | Youtube | Tiktok