How to stake FOLO in Alpha Impact Lobster Trading Competition
In order to complete your first stake on Alpha Impact, you will need to complete the following steps.
Buy and Deposit FOLO:  When you first log in to the Alpha Impact platform, you will see this "Wallet" icon on the left-hand side of the navigation bar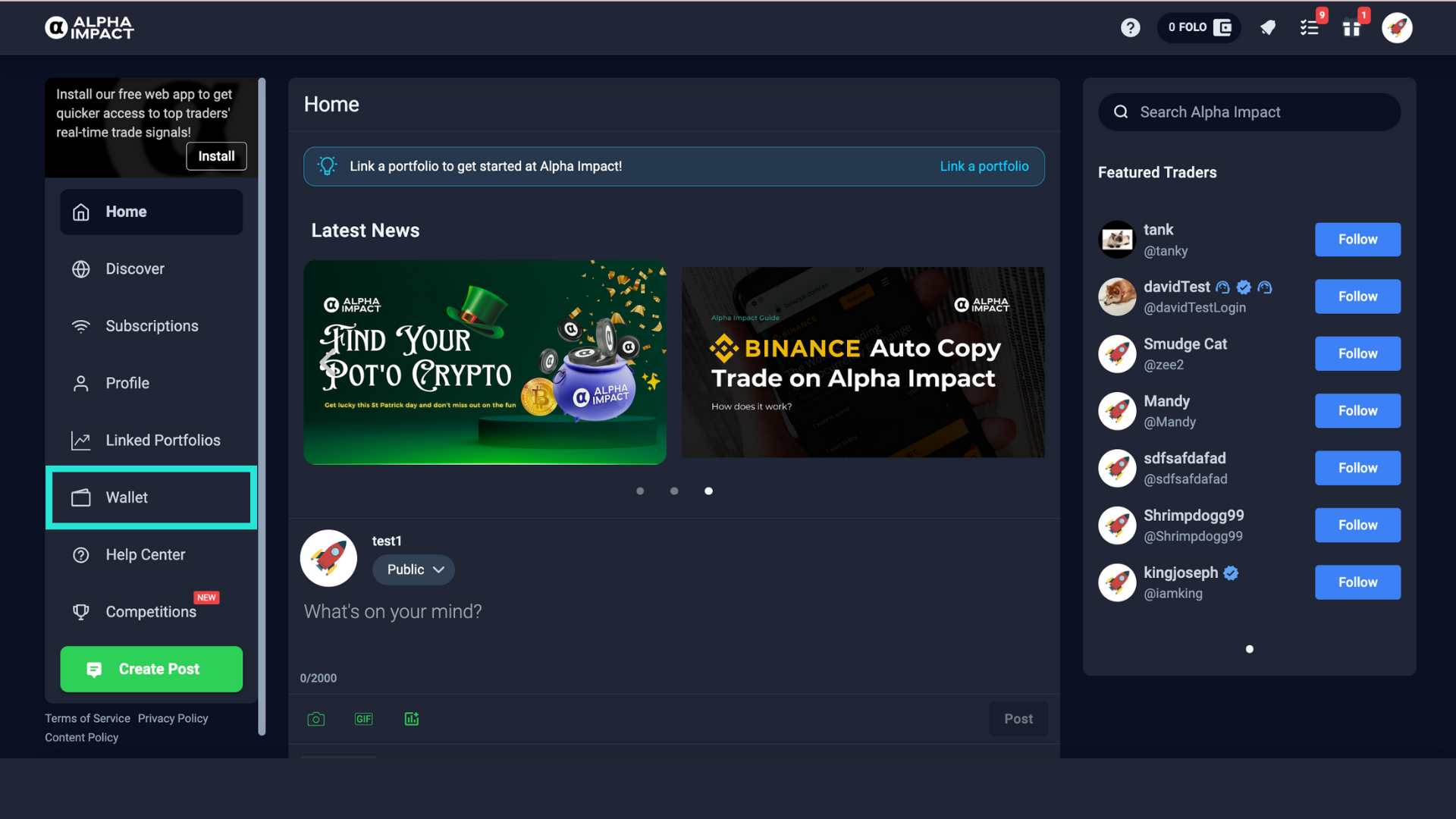 For new users who want to buy FOLO tokens, please click on "Buy FOLO" or follow this article on how to purchase FOLO tokens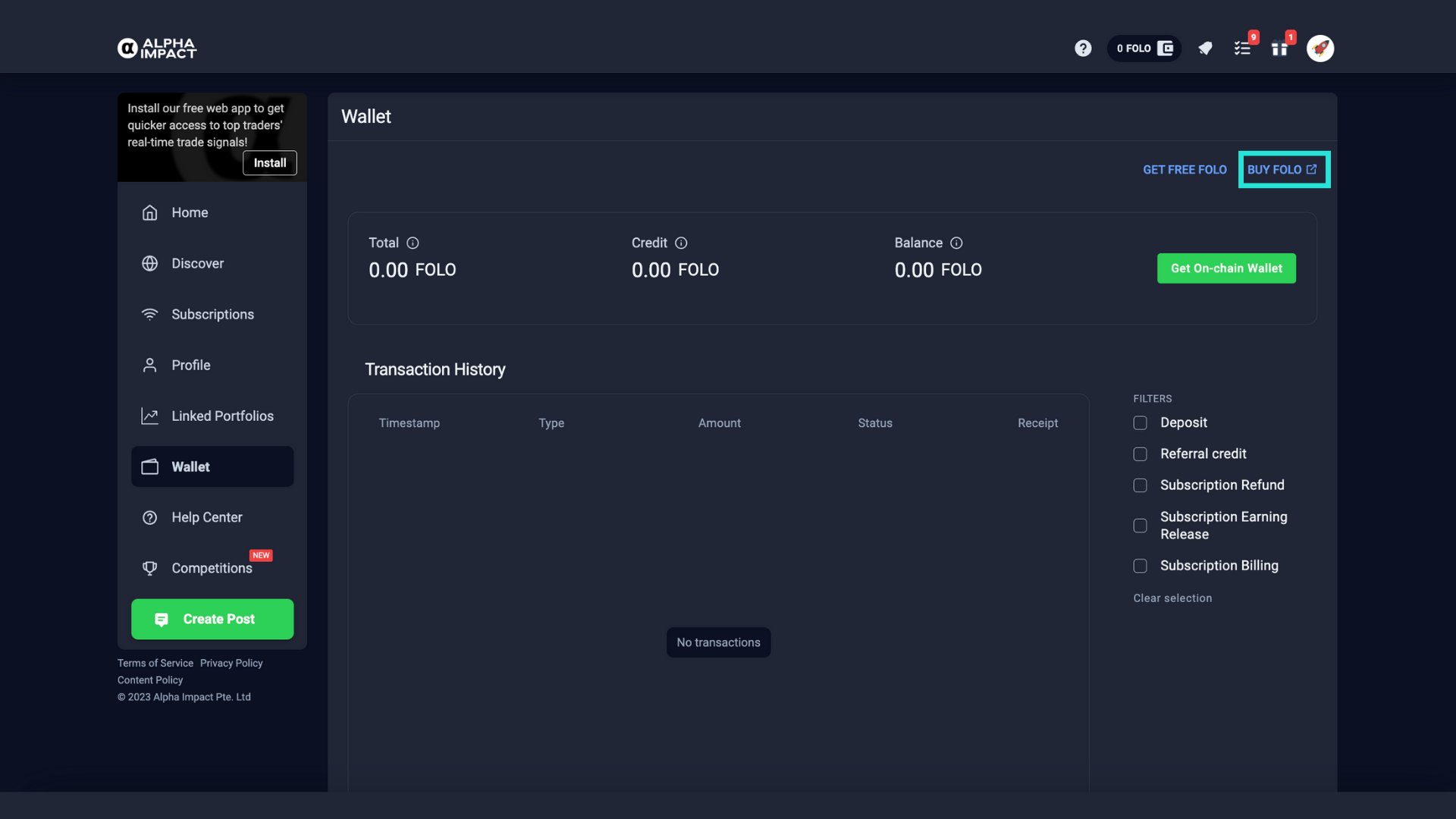 For users who have existing FOLO tokens, click on the "Get On-chain Wallet" icon to deposit FOLO tokens.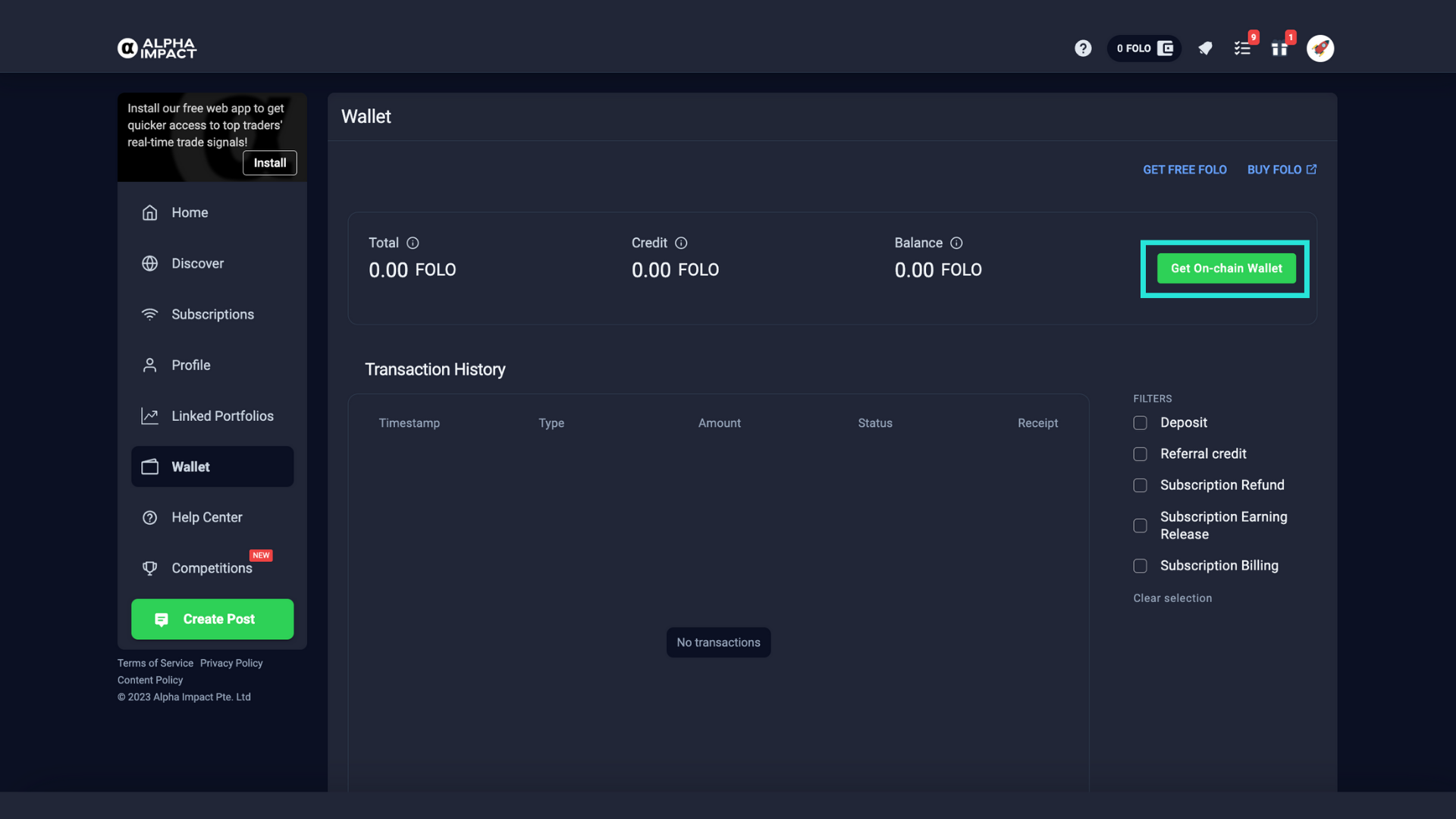 According to your wallet address, select your (Polygon / Ethereum) network and ensure that the network is the same as your wallet address.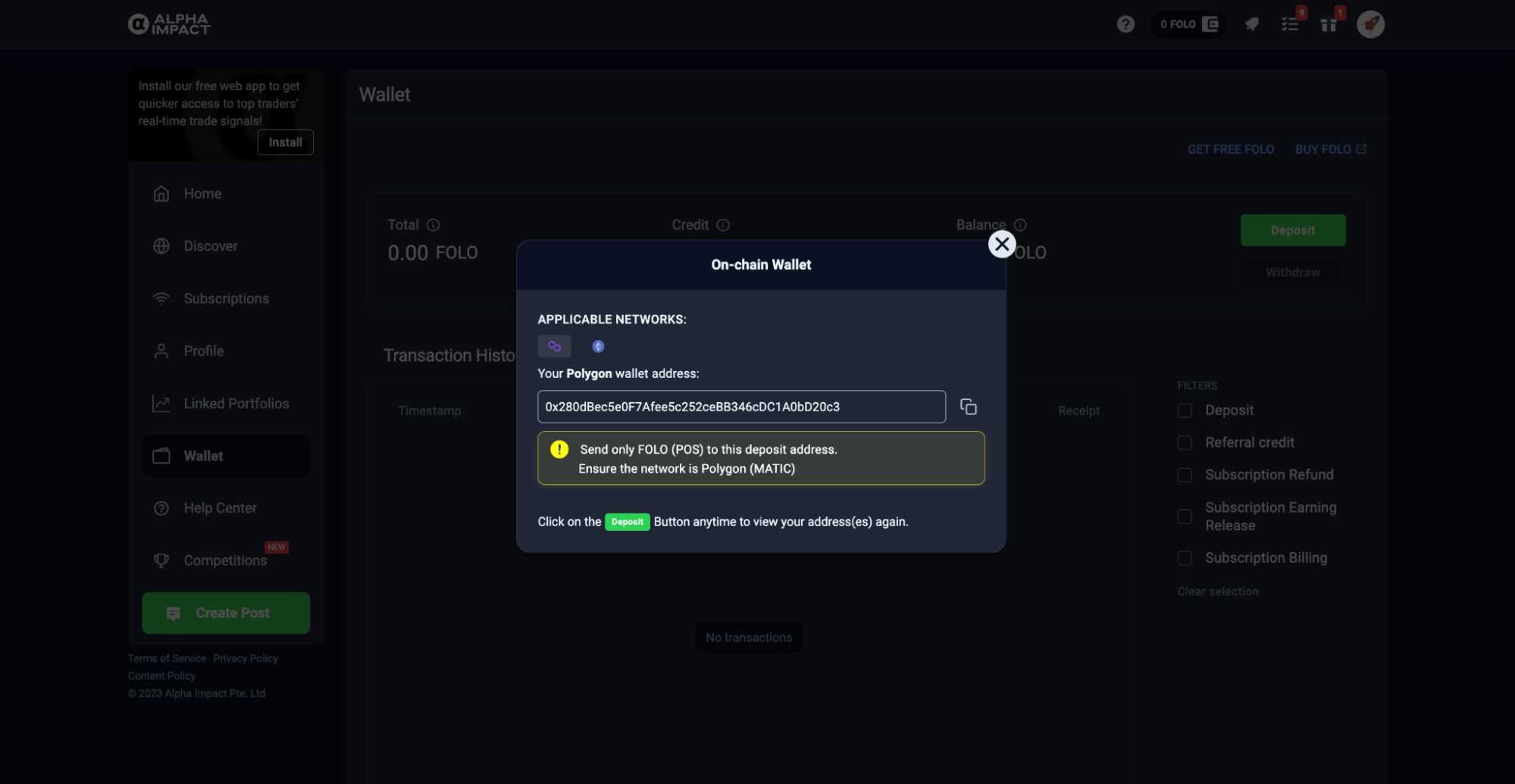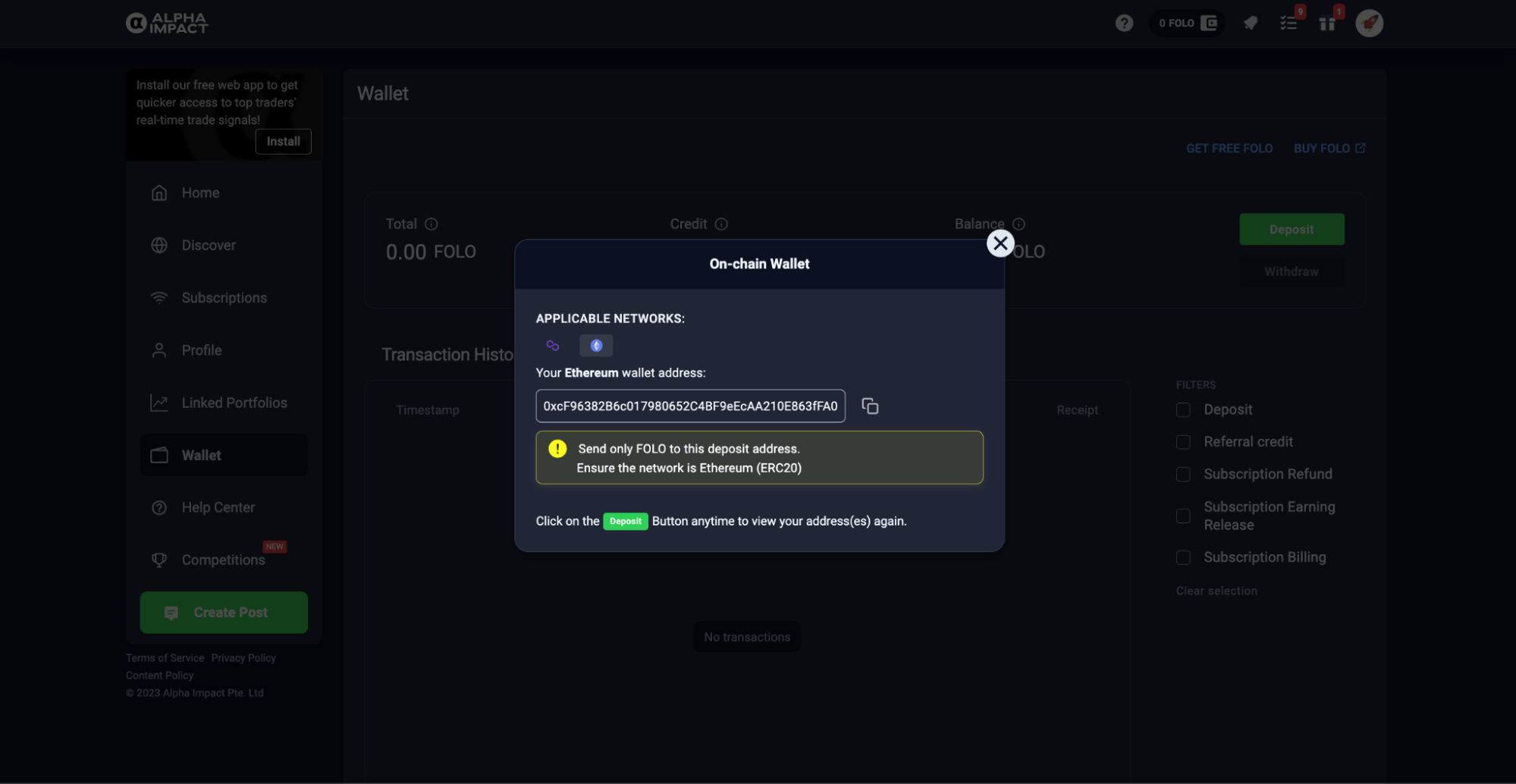 If you have any issues or for more details about how it works, feel reach to reach out to our Telegram community managers.
Once you deposit FOLO in Alpha Impact Wallet, refresh the page and you would be able to see your deposited FOLO in the "Total" and "Balance" segments.
*Please be mindful that the "Total" Balance included the Sum of Credits as well. For the staking program, we accept FOLO tokens only.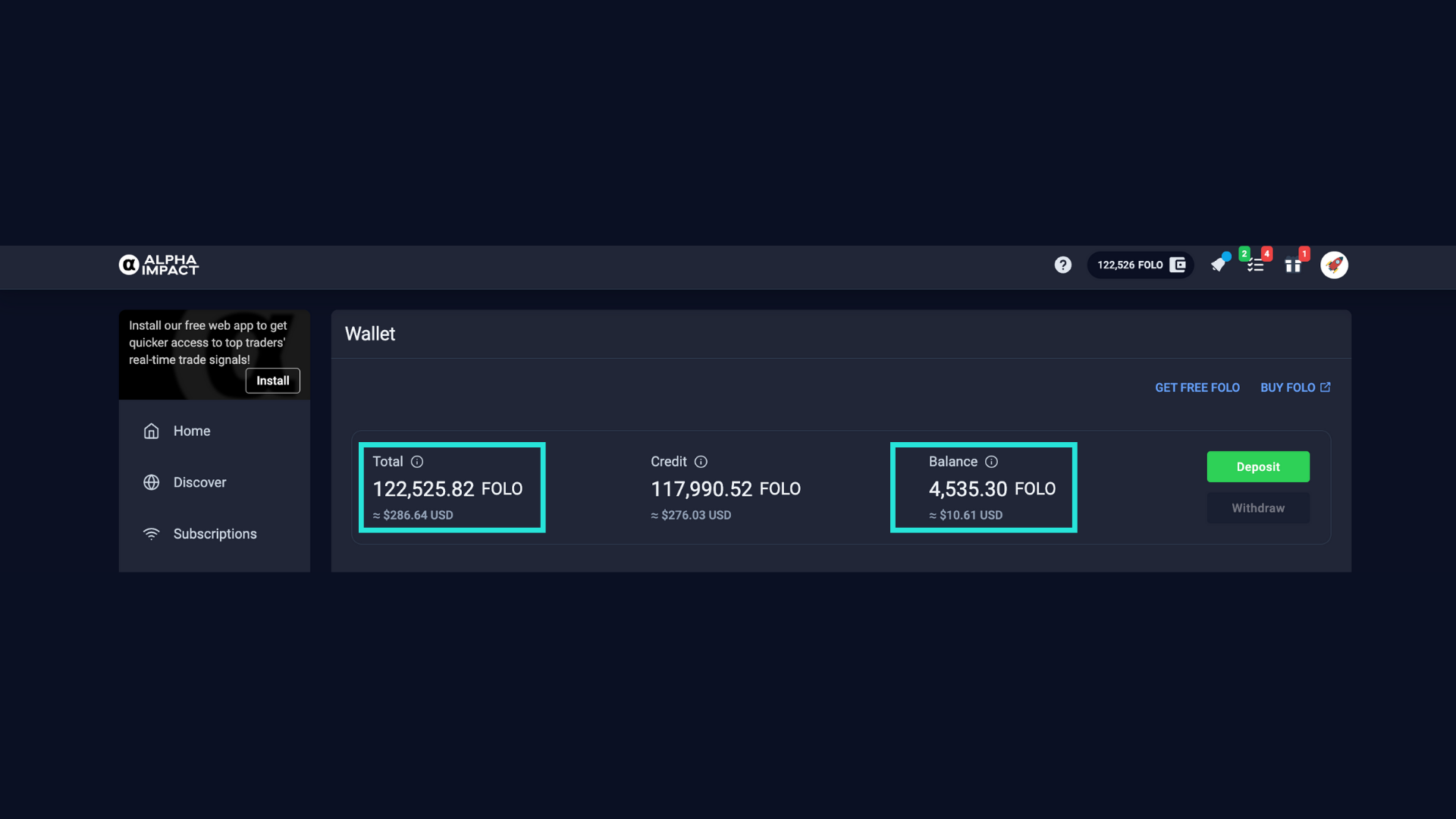 After depositing on Alpha Impact, here are 4 steps on how to stake on a trader on Alpha Impact!
1. Go to the left side of the navigation bar and click the "Competition" page.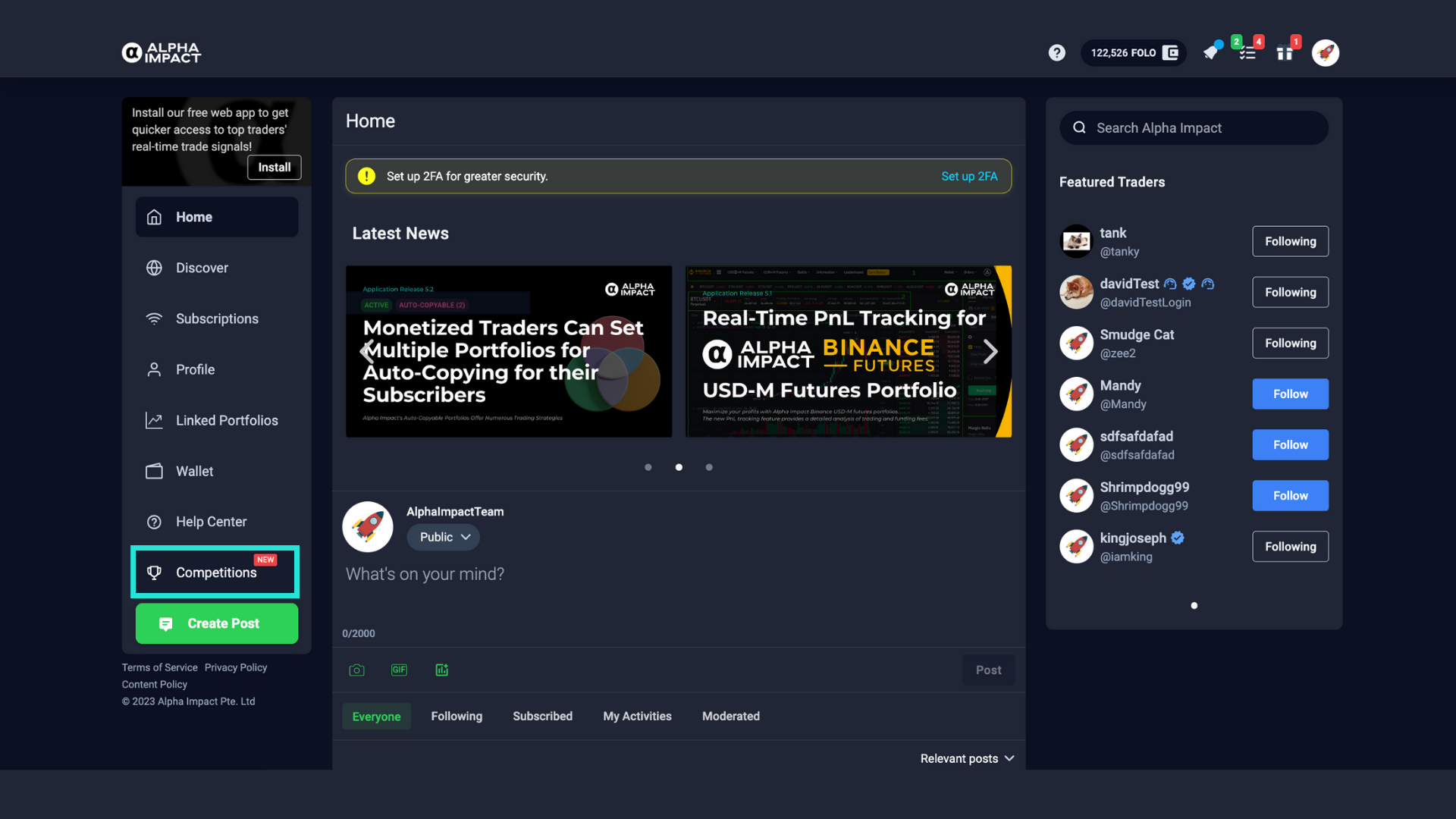 2. You will be able to see some traders who have already registered for the Alpha Impact Trading Competition. Click on the "Stake a Trader" button to select the trader you would like to stake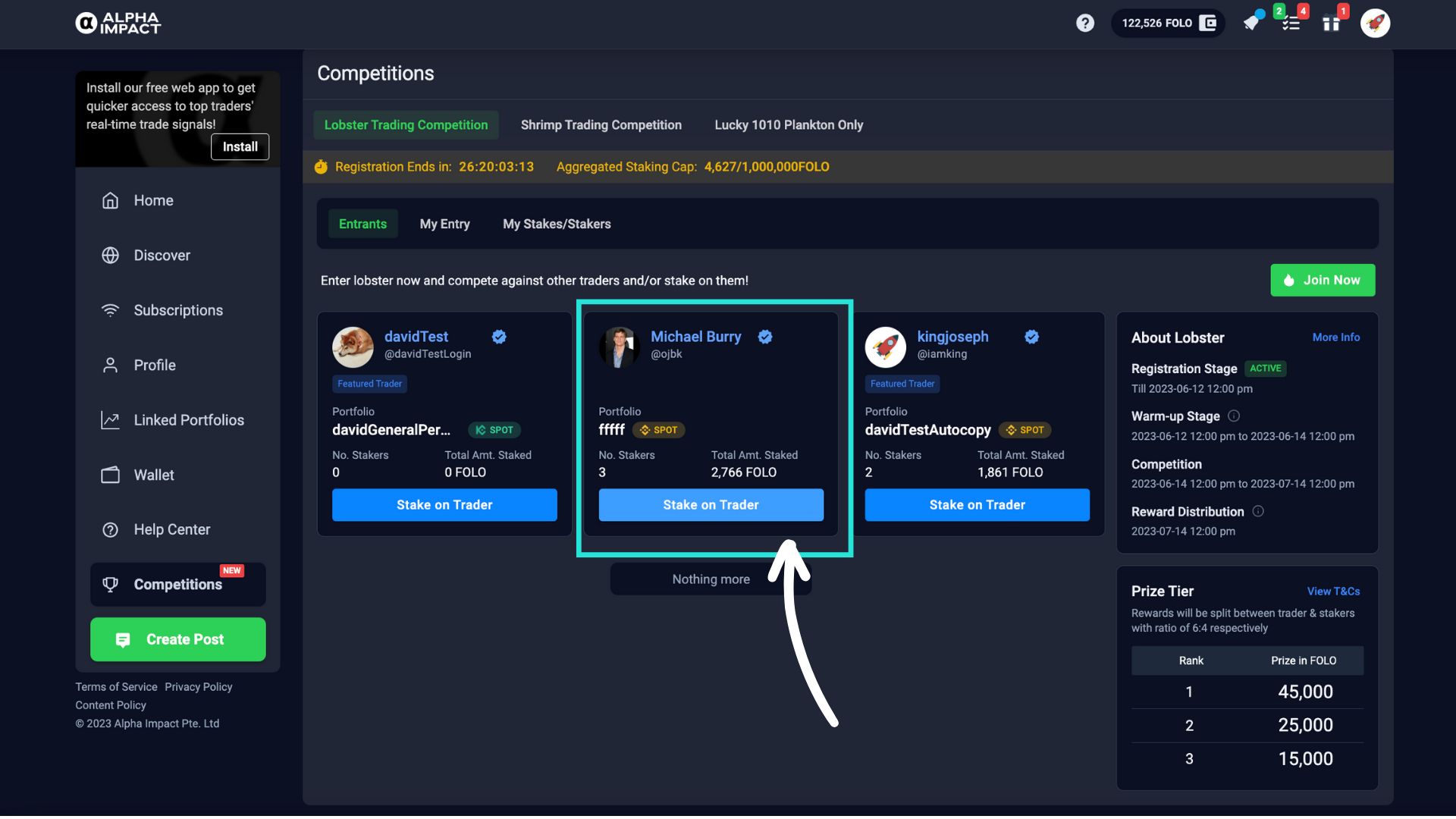 3. The minimum and maximum amount that you can stake on a trader is 750 FOLO to 15,000 FOLO (Est. min $2 – max $50 USD ). Choose the amount you would like to stake on your selected trader.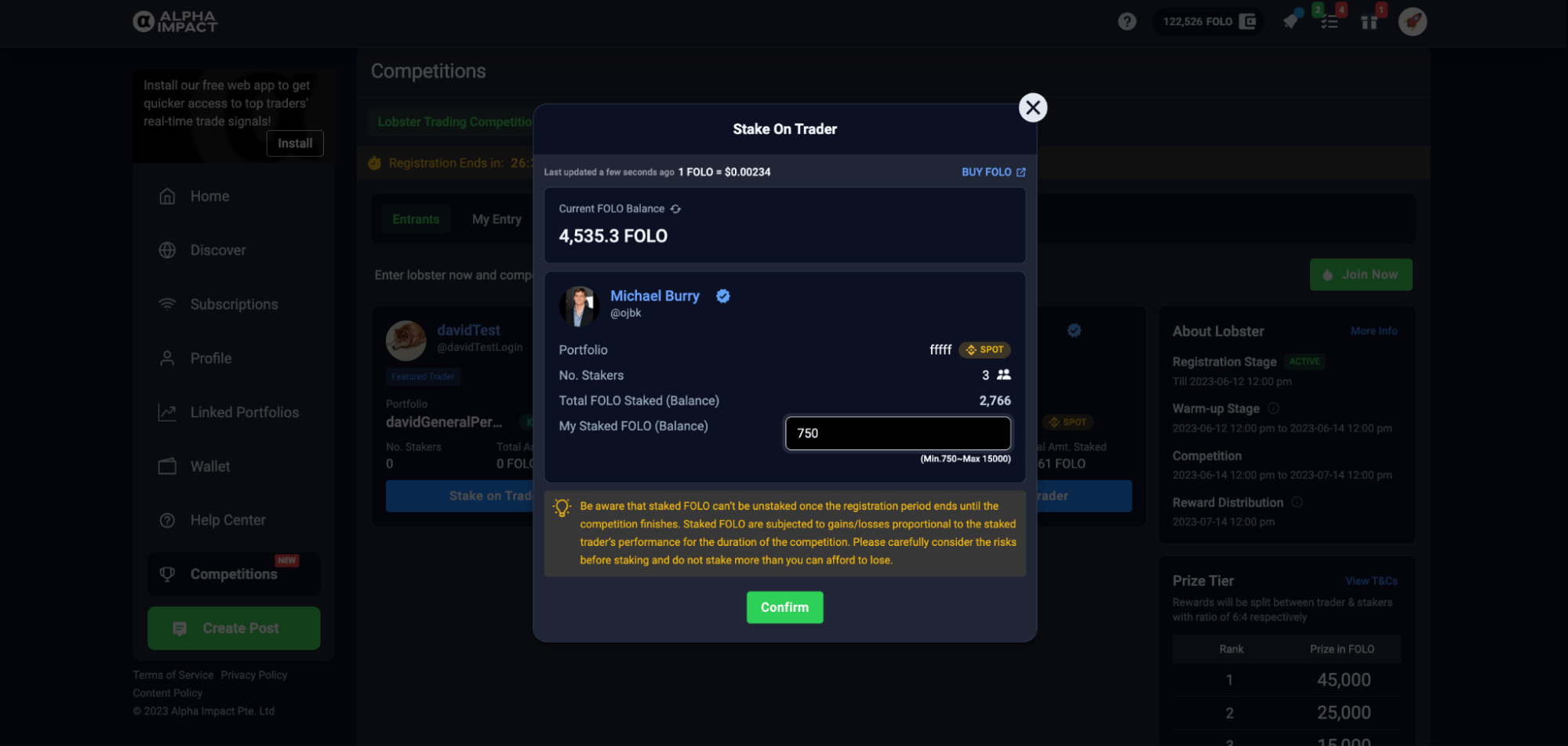 4. You should see a sliding pop-up in the top right corner that indicates that you have successfully staked on a trader.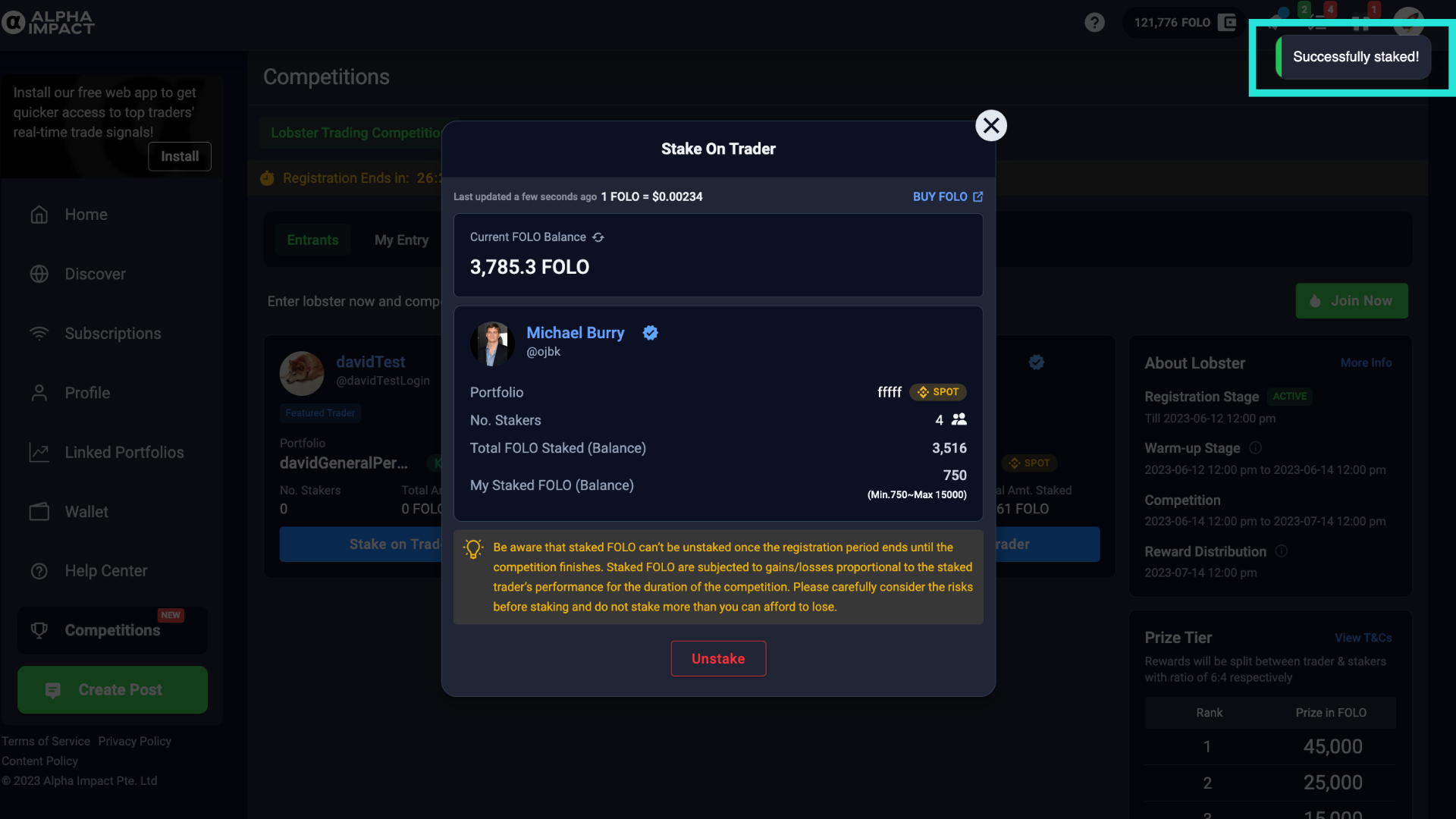 For stakers, you will only be able to stake on a maximum of 3 traders so choose wisely.
It's important to note that all FOLO tokens (the FOLO that you staked) that have been staked on the selected Trader will be locked until the competition starts to end. Hence, during the competition, staked FOLO cannot be unstaked until the end of the competition period.
This ensures that stakers remain committed throughout the competition and helps maintain the integrity of the event.
In Alpha Impact Trading Competition, stakers need to be aware of the profit and risk of losses as their profit and loss is depending on the trader's trading performance during the competition period.
Here are 3 scenarios of what might happen to your staked FOLO tokens:
If the staked trader becomes one of the TOP 3 TRADERS and made a PROFIT during the competition period.
Stakers who have correctly staked on the top 3 traders will be able to share 40% of the competition prize pool. Additionally, if the selected staked trader manages to earn a profit of 50%, stakers who have staked on them will be able to earn 50% of the amount they staked on Trader A.
If the staked trader DID NOT become the top 3 traders but made a PROFIT during the competition period.
Stakers who have allocated their stakes to traders who achieve profitability, regardless of their ranking within the top 3, will have the opportunity to receive 90% of the generated profit (e.g., 50% profit) based on their stake amount associated with that particular trader.
If the staked trader DID NOT become the top 3 traders but made a LOSS during the competition period.
If stakers choose a trader to stake on, but the trader fails to rank among the top 3 traders and instead experiences, let's say, a 50% loss during the competition, stakers will also face the same 50% loss on the amount they staked. It's worth mentioning that in such cases, the trader won't earn any fees from the stakers, and the Alpha Impact platform will not charge them any fees either.
This highlights the importance of carefully considering the potential risks and rewards associated with staking on traders. While staking can be a potentially lucrative opportunity, it's important to remember that there are also potential risks involved, including the possibility of incurring losses. Therefore, it's crucial to do thorough research on the traders you want to stake and make informed investment decisions.
And that's it! We hope this comprehensive guide will help you to understand how Alpha Impact Staking work. If you have any questions or concerns, click here to talk to our team.
Things to Note About the Alpha Impact Staking Program
Traders cannot stake themselves using multiple accounts
One account per person allowed
A deposit of FOLO is required for the account you wish to stake with.
Stake up to a maximum of 3 Traders
Minimum Stake (per Trader): 750 FOLO
Maximum Stake (per Trader): 15,000 FOLO
Max. Aggregate Stake limit of 1,000,000 FOLO across the entire competition
KYC may be required if suspicious activity detected
Read more Terms and Conditions >>
To learn more: 
Click here to access How to buy FOLO tokens?
Click here to access How to deposit FOLO token?
Click here to access How to Connect your Binance Account to Alpha Impact?
Click here to access How to Connect your Kucoin Account to Alpha Impact?
About Alpha Impact
Crypto Made Easy.
Alpha Impact is a social trading platform designed to bring trust to crypto trading. Whether you want to automatically copy an expert trader or you're already a crypto trader and want to build and monetize your following, we're building the infrastructure to take the guesswork out of crypto trading.
Traders on the Alpha Impact platform are some of the top-performing traders in crypto. In good markets or bad, our traders are incentivized to share their trades and trading strategies through the Alpha Impact platform. Finally, a place where users can filter through the noise and learn about crypto trading from experts with a visible track record. What's even better is that traders have the incentive to share their investment thesis, analysis of the market, and the reasons behind their trades.
We share our fees with traders, meaning that there is finally an incentive for expert traders to share their activity and views with crypto enthusiasts and beginners.
Built by experts from the traditional finance space, our philosophy is to empower everyone to become a crypto trader. Whether you're a beginner wanting to learn from an expert, or an expert wanting to get paid, we're here to democratize access to this industry, one trade at a time.
App | Website | Whitepaper | Telegram | Telegram ANN | Medium | Twitter | Facebook | LinkedIn | Github | Instagram | Youtube | Tiktok